This week, I discuss the PK Subban contract, Cory Conacher's emergence in Tampa Bay, Travis Hamonic, the most overrated NHLers, and more.
1. The PK Subban contract is a major win for Montreal and GM Marc Bergevin. And here we thought the bridge contract was dead?  Subban's two year deal creates a "bridge" between his rookie deal and a big pay day (hence the name). Because of Kevin Lowe's summer of madness a few years ago (Dustin Penner and Tomas Vanek offer sheets), teams have started to shell out big money and lots of years for unproven young talent. Montreal didn't want to go that route with Subban, and they ultimately got their way.
If Subban plays the next few years like Montreal expects he will, he will be rewarded handsomely with a large contract extension – one that he earned. Subban gets the acclaim and attention for his infectious personality and dynamic skating ability, but his defensive play is what will really provide value to Montreal. He eats up tough minutes, plays with a physical edge, and is phenomenal at breaking the puck out of the defensive zone, either by skating it out or finding an open man on the outlet.
He does have to win back his teammates after the contract dispute, though.
And now it is time to make good on all of his hard summer training.
2. Although he has only one point start the 2013 season, Brendan Smith has been very good for the Red Wings. It isn't easy to make the jump from the AHL to the NHL, and it is even more difficult to make the jump from the AHL to a top four blue line spot in the NHL. Smith is averaging close to 20 minutes per contest, playing in all situations. In typical Detroit fashion they are exercising a lot of patience with their young players.
The offense from Smith will come soon – young defensemen typically take a bit longer than young forwards to become fantasy relevant, as they are told to take care of their own end before worrying too much about goals and assists.
3. I have been hyping up Cory Conacher for the better part of two years now, but even I didn't think he would be this good this soon for the lightning. The diminutive winger has been an offensive catalyst at both even strength and on the power play, and his story is an inspiration to both undersized players (Conacher is 5-8 and barely 180 pounds) and those who battle diabetes.
4. Another undersized forward who is surpassing my expectations for him this season – Montreal rookie Brendan Gallagher. His story, like Conacher's, is a great one. You really couldn't get a more perfect fit for him than Montreal – he plays such a similar game to Habs captain Brian Gionta – Gallagher is tough, tenacious, and he has a wicked-quick release on his wrist shot.
I scooped him up in my keeper league a few days ago, and if he is sent back to the AHL I can stash him on my farm. I don't expect either of those will happen any time soon, though.
Gallagher's size will remain an issue. NHL.com is listing him at five-foot-nine and 163 pounds, but he's done considerable work with his father in the weight room over the past couple of summers and he looks heftier than that. He maintains that he's 180 pounds.
He also believes that he plays his same fearless, buzz-saw style. Giants fans became accustomed to Gallagher worming his way out of many a dog pile around the net, a massive grin always plastered across his face.
"It'll probably always be something people talk about," said Gallagher.
5. Now that NHL hockey has returned, many hockey fans once again turn a blind eye to the AHL. For shrewd poolies, however, this is the time to really begin evaluating AHL talent. Now that the NHL players who spent the lockout in the AHL are gone, look to see who is making the most of the increased ice time and offensive opportunities.
A few names to keep an eye on:
Linden Vey – Manchester. A skilled offensive player in the Kings system, Vey is a few years off from making an NHL impact. But he has significant upside.
Jason Zucker – Houston. A do-it-all forward for the Wild, Zucker will be a great role player to the likes of Granlund, Parise, Coyle, and Koivu down the road. Think Ryan Callahan if you want a comparable.
Mike Sgarbossa – Lake Erie. Recently got the call up to Colorado, he is small but very skilled. And his production is especially impressive as a first-year pro in what was a very good AHL league for the first few months of the season.
6. Travis Hamonic is an absolute beast. On Tuesday night, he logged 25 minutes against the Penguins while playing with an injured ankle. He reminds me of Brent Seabrook, but I think he has the potential to be even nastier defensively. Hamonic loves to throw his weight around and he's a great skater for his size. Has the upside to develop into a rock-solid two-way defenseman capable of playing on any team's top pairing. 
7. I really enjoyed the first episode of this season's 'Oil Change.' The show follows Edmonton around on and off the ice, and this episode focused on the quartet that dominated in Oklahoma City during the lockout – Schultz, Hall, Eberle, and Nugent-Hopkins. Outside of being phenomenal ice hockey players, they eat and play Call of Duty. Sounds a lot like what I did at the age of 20 and 21 (with the odd university class mixed in).
The show also goes behind the scenes to provide a look at the coaching staff, management, scouts, and more. It isn't too in depth and doesn't reveal any proprietry information that Edmonton uses, but it is always great to get a glimpse into how a pro hockey team is run.
Here is a link to watch the entire first episode for this season.
8. An early season update on some Eastern Conference sleeper picks I selected last summer.
Matt Donovan – Donovan remains with Bridgeport in the AHL. He's having a really strong season there, but the Islanders probably won't call him up unless the injury bug strikes.
Jakob Silfverberg – he has looked pretty good for a rookie, but has only one goal and no assists in seven games. He is adjusting to the NHL. I'd expect the production to come in 2013-14, but I wouldn't hold out hope for too much this year (especially now with Jason Spezza out).
Matt Frattin – what a difference a year makes. Frattin's hard work is paying off in a huge way. He has clicked with Nazem Kadri and the duo are supplying the bulk of Toronto's secondary offense right now. Frattin is a really fun player to watch – I love how hard he takes the puck to the net every chance he gets.
Mark Barberio – Sami Salo and Matt Carle have taken two spots away from the young defensemen in Tampa Bay, so Barberio is biding his time in the AHL right now. I am still very high on his offensive upside.
Erik Gustafsson – 14 points in 26 AHL games, but he has missed the last six weeks with an injury (and it will keep him out of the AHL All-Star Game). He'll be up in Philly soon.
So the three defensemen I tabbed are still in the AHL. But at least they are all playing well, right? 
9. And the same with a few of my Western Conference sleeper picks.
Cody Eakin – he has been the most consistent Stars forward this season, and has seen a lot of ice time in the absence of Jamie Benn (and now Derek Roy). Eakin isn't a high-end skill player but he does everything well. He's going to be a very good (and productive) player for a while.
Roman Josi – so far, not so good (from an offensive standpoint). Josi has no points this season (as of Friday morning), but he is averaging over 24 minutes a night per contest. A huge jump up from the ice time/role he saw last season. If he keeps playing that much, the production will soon follow.
Cam Atkinson – was playing great hockey before the ankle injury. Sounds like he is going to miss a few weeks.
Brendan Smith – only one assist in six games (again, as of Friday morning). Like Josi, Smith is adjusting to playing significiant minutes on an NHL blueline. The production will come, but often times these young defensemen need to learn how to balance playing hard every shift with conserving energy. Jumping up from a lower level league to 20-25 minutes a night in the NHL is not easy to do, especially against the best players in the world.
Mikkel Boedker – five points in seven games for the speedy winger. The major reason has been the fact that he is seeing a lot of ice time. Boedker is averaging close to 20 minutes a contest. In his first four years in the league, his average ice time  per game was 15, eight, 11, and 13 minutes, respectively.
10. Who is going to score 50 goals first – Taylor Hall or Nail Yakupov? I have little doubt that each of them is going to hit that total at least once in their respective careers.
11. If you were Washington GM George McPhee, what would you do right now? You completely turned your offensively-skilled team into a two-way/checking squad (or at least attempted to) with poor results. Your star players are all struggling, and it doesn't seem to matter which coach is sending them the message. Do you give it some more time? Blow it up? Is Ovechkin even tradeable at this point? He has looked better since moving to the left wing, but he is still playing far below the level he was at a few years ago.
I caught some of the game on Friday, and the Caps highlight package for Ovechkin included a shot on goal, a bad penalty taken, and a blocked shot. The announcers were praising his "involvement level." How things have changed....
12. Ryan Getzlaf and Corey Perry are both scheduled to become free agents this summer. Through five games (all of my stats/numbers for this post are from Friday morning), they have combined for nine points. Not great, but not terrible, either.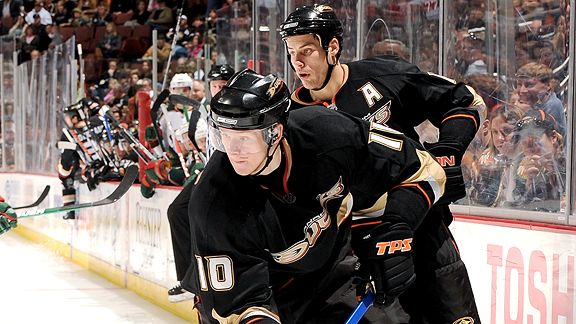 Do they stick around in Anaheim? Do they go somewhere as a package deal? The Leafs have been rumoured to be after each/both of them for a few years now. Getzlaf makes a lot of sense there, as does Perry. Although Perry would fit in on 30 teams (he may have trouble making friends if he joined Vancouver, Los Angeles, Phoenix, or Dallas, though).
Anaheim will need some indication by the trade deadline - there is no way they can risk losing both of them for nothing next summer. Might as well change their name to the Anaheim Bobby Ryan's (provided he doesn't want a trade out of town again).
13. I could see the Phoenix situation dragging on for another year or so, which is too bad for all parties involved. I have some good friends in the desert who are diehard fans, and it isn't fair to them to have to go through this. Selfishly I love going to Pheonix as a destination, and Coyotes games are always an attraction.
But from a logical/fiscal/common sense perspective... it is way past the point of enough is enough. Greg Jamison couldn't raise a dime of the remaining funds he needed to buy the team. What does that tell you about investor's confidence in the team? It also shows how hard Glendale/Phoenix were hammered by the recession – one of the hardest hit areas in the country. Seattle won't have an arena ready for two years, and Key Arena isn't fit for hockey. Quebec City's arena won't be ready for a while, either. So it looks like the waiting game will continue....
14. Tomas Vanek currently leads the NHL in scoring with 15 points (as of Friday morning). A notoriously streaky producer, Vanek probably couldn't sustain an Art Ross-like scoring pace over 82 games. But what about 48? I'd think for a second before selling high on him. A great example of the randomness that a shortened season will introduce.
15. Colorado's overpayment of Paul Stastny a few years ago has really hurt them in the O'Reilly negotiations. He clearly outplayed Stastny last year, but the Avalanche aren't offering him close to the $6+ million that Stastny brings in. And the situations were pretty similar - Stastny signed his new deal righ after his entry-level rookie deal expired. It wasn't like he was approaching UFA age and the Avalanche had to give him his big pay day.
Previous Prime Cuts:
Kane, Tarasenko, and more: January 25, 2013.
Write comment
Comments
(2)
Subscribe to this comment's feed