*
Five thoughts from the first week of NHL action for the PlayNow Sports blog.
*
Dobber's latest for Puck Daddy is a great read - check it out here.
*
There is still time to get an entry together and win some money in our DraftStreet.com contest. The contest is free, and you can win up to $300. Check the link out for more details.
*
Well how fun was that finish in Edmonton? The Oilers tie the game with a minute left, only to have the goal called back because of goaltender interference on Sam Gagner (I wasn't aware a goal call could be reversed on interference).
A short while later, Nail Yakupov tied the game after batting the puck in out of mid-air. His goal celebration was worth watching, to say the very least. I have included a video link of it below. The Oilers went on to win the game in OT thanks to a goal from Sam Gagner.
*
Don't forget - my fantasy hockey mailbag is open until tomorrow. Ask your questions here.
*
Semyon Varlamov's sensational start continues - he stopped all 33 shots he faced against Columbus last night. Really carrying over his strong KHL play into this NHL season.
Matt Duchene had three points for Colorado, and PA Parenteau added a goal and an assist. Parenteau seems to already be fitting in nicely to Colorado's top six group of forwards.
Columbus gave top six minutes to Anisimov, Prospal, Dubinsky, Johansen, and Umberger last night.
*
Patrick Marleau has started the season with three multi-goal games. Raise your hand if you had written him off a bit (as I meekly raise mine...).
Mikkel Boedker had an assist and played a team-high (among forward) 21 minutes last night for Phoenix. Great to see.
Joe Thornton added four points, and Logan Couture had two. The Sharks are wanting to prove that their window to win hasn't closed yet.
*
Yakupov's celebration:
*
Brendan Ross offers his thoughts on the 2013 draft eligible prospects at the midseason mark.
*

The two best forwards I have seen this season - Marian Hossa and Patrick Kane. They put on a clinic in OT against Dallas last night.

Kari Lehtonen had a whale of a game (haven't used that saying in a while) for Dallas. He is going to steal Dallas many points this season.

Last night wasn't all bad for Stars fans, though. Jamie Benn officially signed a new five year deal with a very fair cap hit of $5.25 million. Great contract for both sides.

*
Get your reading glasses on, because today's ramblings are very comprehensive.

*

Jaro Halak already has two shutouts this season - he made only 13 saves last night to shut out the Preds.

This Tarasenko guy is pretty good, isn't he? The phenom Russian scored another goal last night for the Blues.

Pietrangelo (25 minutes) and Shattenkirk (22 minutes) were the only Blues with more than 20 minutes of ice time last night.

*

Erik Karlsson is showing no signs of slowing down from last season - he scored another goal and had a team high four shots on goal for the Sens.

And one reason for Karlsson's great start - the seamless transition from Marc Methot into the Ottawa lineup. Methot logged 22 minutes of ice time last night and he had two helpers.

*

Andrei Markov looks sensational to start the season - the time off did him good. Two points and close to 25 minutes of ice time last night - those bionic ACLs are doing pretty good right now.

Raphael Diaz had two helpers and logged over 20 minutes for the Habs - he's an offensive catalyst, and the production will come with that kind of ice time.
*
Dirty with a capital D!

*

The good news for Mike Green owners - a ton of ice time, and a team high five shots on goal. the bad news - zero points, and another loss.

Are these Washington struggles a huge surprise? Three significant coaching changes/philosophical changes in 18 months?

Eric Fehr was a healthy scratch for the Caps.

*

Cody Hodgson had a goal last night, but won only four of 14 faceoffs for the Sabres.

The Staal brothers broke out in a big way - Eric recorded a hat trick and Jordan added two assists.

Justin Faulk also scored a goal and played a beastly seven minutes on the PK.

Nice to see some production from Zac Dalpe - two helpers in less than nine minutes of ice time.

*

With Hartnell out of the Flyers lineup, the early benefactors were Matt Read and Wayne Simmonds, who both saw close to or over 20 minutes of ice time.

A solid performance from Ilya Bryzgalov, who quieted his critics just a bit - he did only face 19 shots, though.

*

Ben Scrivens got off to a great start for the Leafs last night before imploding later on. He ended up allowing five goals on 25 shots before getting the yank.

I only caught the first period and Toronto looked pretty good - that obviously changed as the game went on....

Some good performance from Toronto - Frattin and and Gunnarson each had a goal and two helpers.

Nazem Kadri added a goal and an assist as well.

*

Michael Grabner and Brad Boyes combined for six points on Long Island's second offensive unit.

*

Scott Hartnell is going to be out for a month or two with a broken foot. Come on down Jakub Voracek and Brayden Schenn! The Flyers are really going to have their depth tested after losing Jagr in the summer.

*

Speaking of injuries - top Dallas prospect Radek Faksa will miss up to six weeks with a sprained MCL. He currently plays for Kitchener of the OHL.

*

Dustin Penner was a healthy scratch for the Kings last night against Edmonton.

*

Mike Gillis went on the record yesterday saying he would be willing to move Luongo to a Western Conference team if the trade was the best return Vancouver could get. I think Chicago and Edmonton are both realistic contenders to land Bobby Lu.

*

Dallas has called up winger Tomas Vincour from the AHL. He wasn't fully healthy a few weeks ago, but he should see some time in a checking capacity. He projects as a 12-18 goal third line winger at the NHL level.

*
Matt Duchene's extremely swollen chin, the result of a puck hitting it a few nights ago:
*
My latest post for the CanucksArmy – what should the Canucks do with Keith Ballard (both this season and beyond)?
Ballard's time in Vancouver has been marked by injuries, inconsistent play, and limited opportunities to do much of anything on the ice. Assuming Ballard isn't given top four minutes this season (and unless a few injuries strike, expect him to remain on the bottom pairing), what will the Canucks do with him this coming summer? He has two years left on his current contract (a $4.2 million cap hit).
*
A really, really, really good read on Jaromir Jagr from Yahoo! Sports. This column summarizes why even at the age of 40, Jagr has so much to give to the Stars, both on the ice and in the dressing room.
When Jagr arrived in Dallas, he asked for a key to the practice facility. A team official had suggested he work with a realtor to find a big place in a beautiful neighborhood, but Jagr chose an extended stay at a mid-range hotel about a block-and-a-half from the rink. Three of the first four nights he was in town, he was working out at approximately 11 p.m. The Stars think he will help Loui Eriksson and Jamie Benn, if and when Benn signs as a restricted free agent.
*
A very good read from DobberHockey pal Mike Colligan on the new shutdown pairing in Pittsburgh. Paul Martin wasn't very good last year, but perhaps he can turn his game around with some more structure and a more defined role.
Penguins defensive coach Todd Reirden likely wants all of his defensemen to be aggressive at their own blueline.  Once forwards can "gain the blueline" — as you'll hear commentators refer to it — a ton of new options open up.  In both Orpik photos above and below, you'll notice him within a sticklength of the other player, denying him space in that area of the ice.
*
The Minnesota Wild have recalled defenseman Jonas Brodin, and he could make his NHL debut on Friday. Don't count on much offensively from Brodin (at least right away). He is a very steady defenseman and makes a great outlet pass – he should help the team a lot.
*
Joffrey Lupul will be out for six weeks with a broken arm. Six weeks doesn't sound too long, but it equates to almost half of the regular season in 2013. Lupul's absence will be a tough one for Toronto to fill – it means more responsibility for the likes of van Riemsdyk and Kulemin, and it will probably mean a promotion for Matt Frattin, as well.
*
I haven't made any free agent or trade-related moves in my fantasy hockey leagues – I am still trying to feel out how the shortened season is going to go. I did call up Zack Kassian from my farm team – a transaction I am glad I made before Kassian's dominant performance against Calgary on Wednesday night.
I wanted to grab Cristopher Nilstorp in my keeper league for goaltending depth (Luongo/Schneider remains 1.5 goalies, as I was hoping a trade would have gone down by now), but someone scooped Nilstorp up in my league just before I could.
*
This photo should be up at every rink in Canada: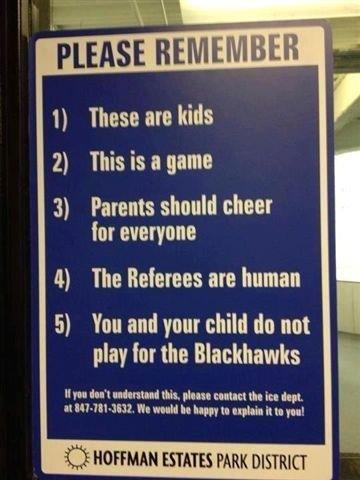 *
Ryan O'Reilly is returning from the KHL, but he remains at a standstill with the Avalanche with regards to negotiating a new contract.
On Thursday, it was announced that via mutual agreement, O'Reilly's contract with Metallurg would be terminated, citing the upcoming transfer window and an injury he suffered earlier this month.
Colorado will really miss O'Reilly the longer the season drags on – he was their best forward last season, and their depth will be tested with the season-ending ACL injury to Steve Downie.
*
According to John Tortorella, Chris Kreider may need some time in the AHL to continue with his development. This is a great example of the nonlinear path of development most players undergo. Kreider took the hockey world by storm with his impressive play in the postseason after turning pro back in 2012.
However, it is much tougher for rookies to sustain that kind of play over a full season – consistency is something that has to be learned a lot of the time. This doesn't change my opinion of Kreider from a long term perspective, and this shouldn't really be a huge surprise considering how deep the Rangers are at forward.
Just remember – the club refused to include him in a Rick Nash trade. They wouldn't even have moved him straight across for Nash. That just shows how they value him.
*
Write comment
Comments
(14)
Subscribe to this comment's feed