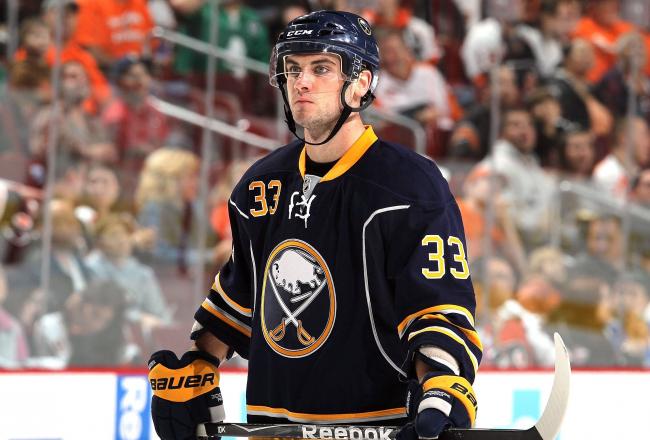 This week we will continue to look at players who are emerging as excellent cap bargains in the AHL and can potentially help your team in the not-too-distant future. All players profiled will have a cap hit under $1 million. The idea is to find players who can help you fit more expensive stars on your roster while not sacrificing anything in terms of production.
Here are six potential bargain defensemen from the Eastern Conference:
TJ Brennan (Buffalo)
Cap Hit: $550,000
Years Left: 1
AHL Team: Rochester

GP: 27
G: 11
A: 12
PTS: 23
PIM: 30
The 6'1, 214-pound defenseman has really stepped up his game during the lockout. After posting modest numbers in the AHL and being passed on the depth chart by Brayden McNabb, TJ Brennan leads all Rochester blueliners with an impressive 23 points in 27 games, including a monstrous 11 goals. There is competition in the pipeline with McNabb and Mark Pysyk on the brink but the Sabres have four unrestricted free agents this summer: Robyn Regehr, Jordan Leopold, Adam Pardy and Alexander Sulzer.
Assuming that there is some roster turnover in Buffalo there will be opportunities for rookies to step in. Brennan has done a great job positioning himself for a promotion. His size and production have to be noticed at some point, whether that is in Buffalo or elsewhere. He is a restricted free agent after this season but he should not receive a large raise if any because he has not done anything in the NHL yet. There is a small chance that he signs a one-way deal.
Erik Gustafsson (Philadelphia)
Cap Hit: $900,000
Years Left: 1
AHL Team: Adirondack

GP: 24
G: 3
A: 11
PTS: 14
PIM: 27
Erik Gustafsson has been on the fantasy radar for a few years but his low salary raises his value in cap leagues. He has had great offensive success in college and in the AHL and now he must translate that to the NHL. He will have to produce quickly in order to keep his spot on the Philadelphia depth chart because his lack of size limits his effectiveness on the defensive side.
The additions of Niklas Grossman and Luke Schenn could pose problems in securing a roster spot although Kimmo Timonen could be retiring in the coming months and Chris Pronger's career is likely over. As it stands right now there is a good chance that Gustafsson could secure the sixth or seventh blueline position but with Flyers' management being known for their aggressive trading you never know if more immediate help could be brought in. He is a gamble but the talent is definitely there.
Mark Barberio (Tampa Bay) 
Cap Hit: $580,000
Years Left: 1
AHL Team: Syracuse

GP: 28
G: 4
A: 15
PTS: 19
PIM: 20
Mark Barberio may be the most valuable fantasy defenseman on this list because of the opportunity available on Tampa Bay's main roster and also because of the firepower up front to potentially help inflate his point totals. Sami Salo and Marc-Andre Bergeron are just temporary puck movers on the roster and will eventually be replaced by blueliners like Barberio.
After being named the AHL's top defenseman last year, Barberio's numbers have taken a slight hit.
This is due to Syracuse not being as dominant of a club as they were a season ago. This is not a concern because his 19 points in 28 games are still impressive at any level. He will be a restricted free agent this summer and could sign a one-way contract much like Paul Postma.
Mark Borowiecki (Ottawa)
Cap Hit: $610,000
Years Left: 1
AHL Team: Connecticut

GP: 18
G: 1
A: 4
PTS: 5
PIM: 90
Those in roto leagues could have a pleasant surprise in Mark Borowiecki. He is a very tough defenseman who will definitely be a fine contributor in hits and PIM. He is also a good defensive player and is far from a liability at the offensive end. In 100 career AHL games he has 27 points and 223 PIM.
Borowiecki could have a rare opportunity for a promotion to the NHL if the lockout ends soon. With Jared Cowen out for the season, the Senators could use a strong defensive body in his place. Barring a trade to bring in a veteran, Borowiecki could get the call.
Tomas Kundratek (Washington)
Cap Hit: $816,666
Years Left: 1
AHL Team: Hershey

GP: 29
G: 9
A: 8
PTS: 17
PIM: 18
Tomas Kundratek has been a pleasant surprise this season with 17 points in 29 games to lead all defensemen in Hershey. He is already seen as a good player in his own end so this added offense really increases his chances of taking the next step in the near future.
This summer the Capitals will have Roman Hamrlik, John Erskine and Jack Hillen become unrestricted free agents which could open a spot for Kundratek next fall.  The cap hit of his new contract is not expected to be high and could be a deciding factor with several bloated contracts on the team.
Radko Gudas (Tampa Bay)
Cap Hit: $750,000
Years Left: 1
AHL Team: Syracuse

GP: 25
G: 2
A: 8
PTS: 10
PIM: 84
Radko Gudas is very similar to Borowiecki in that he brings a lot of toughness to the lineup while also posting decent offensive totals. To put it in perspective, in 174 career AHL games he has 47 points and 444 PIM which scales to 22 points and 209 PIM per 82-game season.
The addition of Keith Aulie at last season's trade deadline really hurt Gudas' chances to get promoted to the Lightning in the short-term. Aulie is similar in style but higher-profiled and since the Lightning gave up a forward prospect for his services the team will want to prove that it was a good move. Hence, Gudas is probably stuck in the minors for the time being.
Previous posts from Eric Daoust:
 You can find Eric on Twitter @DH_EricDaoust
Write comment
Comments
(0)
Subscribe to this comment's feed