Welcome to this week's edition of Holding Court, a column where both sides of a fantasy hockey debate are argued just like in a courtroom, complete with a final verdict. Then you, the DobberHockey readers, can comment on whether justice was properly served! You can also leave ideas in the comments section for other debates to be settled right here in future editions of the column.
One of the most intriguing stories when the NHL finally resumes will be the additions of Jordan Staal and Alexander Semin in Carolina.  Both players arrive with huge, but vastly different, expectations.  With Staal, the big question is how will he perform when finally being counted on for offense, as opposed to his years of being in a defense focused, "third banana" role in Pittsburgh behind Sidney Crosby and Evgeni Malkin.  For Semin, the major question is more which version of him will actually show up – the Semin of 2008-09 and 2009-10 when he was arguably one of the most dangerous and productive offensive players in the entire NHL, or the Semin of the past two seasons who disappointed teammates and fantasy owners alike with his poor, indifferent play. 
With all these things in mind, the debate this week is – who will score more points in his first season with Carolina, Alexander Semin or Jordan Staal?
Semin – More incentive to produce and has actually put up big numbers in the past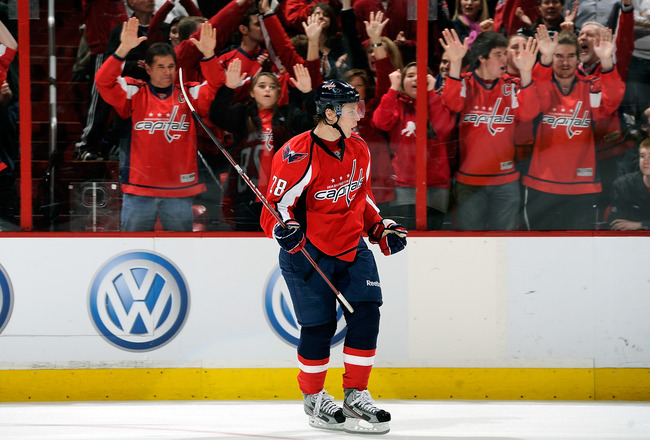 Simply put, Alexander Semin is among the ten most talented skaters (i.e., non-goalies) in the entire NHL.  Some people might argue with that statement - especially now - but it's the truth.  Not only has he averaged more than a point per game twice in his last four seasons, but his points per game average in those two seasons were 1.24 and 1.15.  To put things in proper perspective, guess how many other NHLers averaged at least 1.15 points per game in one or the past four seasons and at least 1.24 points per game in another?  Only five other players, and they're the among the very best in all of the NHL – Sidney Crosby, Evgeni Malkin, Henrik Sedin, Daniel Sedin, and Alexander Ovechkin.  Even superstars like Steven Stamkos, Martin St. Louis, Ilya Kovalchuk and Pavel Datsyuk didn't accomplish this feat.  It's clear that Alexander Semin is truly an elite talent capable of piling up points, far more so than Jordan Staal.
Admittedly, Semin's most recent two seasons were a step down in terms of his production, but let's not forget that pretty much all Capitals players saw their stats suffer during the team's failed "defense first" experiment.  And it's interesting to note that Semin's stats actually managed to be less negatively affected than Alexander Ovechkin's over the same time period.  Semin went from 163 points in 135 games (1.207 points per game) in 2008-09 and 2009-10 to 108 points in 132 games (0.818 points per game) in 2010-11 and 2011-12, for a drop of roughly 0.389 points per game, while Ovechkin went from 219 points in 151 games (1.450 points per game) in 2008-09 and 2009-10 to 150 points in 157 games (0.955 points per game) in 2010-11 and 2011-12, for a larger drop of 0.495 points per game.  

In other words, Semin's offensive talent helped him manage to keep his stats from dropping as much as Ovechkin's during those tough times in Washington, and that was despite Semin playing in 2011-12 with far less talented linemates (more on that below).  What this shows is Semin is well positioned for a big rebound in points once he's again allowed to focus more on offense, and he'll definitely get that chance in Carolina.
And for those who predict tough times for Semin in Carolina based on his drop in production during the 2010-11 playoffs and the 2011-12 regular season, if you examine his most frequent line pairing during these time periods and compare them with those during his most successful 2008-09 and 2009-10 regular seasons (using the ever useful Frozen Pool tool), you get a clear explanation for what happened:
2010-11 playoffs
| | | |
| --- | --- | --- |
| 42.91% | EV | 44 ARNOTT,JASON - 28 SEMIN,ALEXANDER - 18 STURM,MARCO |
2011-12 regular season
| | | |
| --- | --- | --- |
| 20.29% | EV | 25 CHIMERA,JASON - 85 PERREAULT,MATHIEU - 28 SEMIN,ALEXANDER |
2009-10 regular season
| | | |
| --- | --- | --- |
| 27.27% | EV | 19 BACKSTROM,NICKLAS - 8 OVECHKIN,ALEXANDER - 28 SEMIN,ALEXANDER |
2008-09 regular season
| | | |
| --- | --- | --- |
| 33.73% | EV | 19 BACKSTROM,NICKLAS - 8 OVECHKIN,ALEXANDER - 28 SEMIN,ALEXANDER |
While no one can predict with certainty who Semin will skate with when he takes the ice for Carolina, it's a pretty safe bet that he'll be lined up with players who are a lot more offensively talented than the likes of Jason Arnott, Marco Sturm, Jason Chimera and Mathieu Perrault.  Plus, let's also not forget that Semin's shooting percentage was 11.5 in 2011-12, which was well below his 14.3 – 15.2 range for each of the previous three seasons.  His total shots also were down to about 2.5 per game from the usual roughly 3.0 or so that he averaged.  If he goes back to his former shooting levels, that should easily mean at least another handful of goals on top of the bump in points he'll already automatically experience from playing with talented linemates once again.
Even beyond past results pointing to Semin having a big year, his one year contract status with Carolina also will give him every incentive to light the lamp.  Yes, he's signed one year deals before, but never with a new team.  Plus, this time Semin was an unrestricted free agent yet only managed this one-year deal despite all his past accomplishments.  That certainly had to be humbling, and no doubt has left Semin hungry to prove his doubters wrong.  Semin already came back to the NHL from the KHL once in his career, and certainly could've signed there again this past offseason, especially with the looming lockout.  But he clearly wants to show that he remains an elite player on the world's biggest and best stage – the NHL. 
He knows this could be the last chance he has in the NHL, and with that he has more motivation to succeed than Jordan Staal, who let's not forget has never once scored more than 50 points in his six NHL seasons, and who can rest comfortably knowing he's signed to a 10 year, $60 million contract that he can collect on no matter how well he performs.
Staal – Extra motivated to show that he can be "the man" and has the added advantage of playing with his brother
If you read the above, it paints Alexander Semin as eager to succeed and poised for surefire success.  But let's not forget that we're talking about the same guy who has been dogged in the past by criticism not only from respected hockey minds (Marc Crawford and Pierre McGuire), but also more troublingly by his own teammates, like Matt Bradley and Dave Steckel.  And that's just the few who have made their feelings public; as we all know, where there's smoke there's probably fire, so that means Semin might actually be a worse teammate and waste of talent than most have been led to believe by public reports.  Plus, the criticism from his teammates came in 2011, so wouldn't he have been just as motivated to put up big numbers to silence his critics last season as he supposedly will be in the upcoming season?  But we all saw that he was a major disappointment last year, so who's to say he won't be just as bad (if not worse) in this coming season?
Also, the line combination data above omits the 2010-11 regular season, when Semin slipped to 54 points in 65 games.  Yes, Washington was indeed focused more on defense that year, but Semin failed to produce despite getting plenty of time with the best Washington players, which undercuts the explanation about why his numbers slipped in the 2010-11 playoffs and the 2011-12 regular season:
2010-11
| | | |
| --- | --- | --- |
| 20.6% | EV | 19 BACKSTROM,NICKLAS - 8 OVECHKIN,ALEXANDER - 28 SEMIN,ALEXANDER |
| 46.92% | PP | 19 BACKSTROM,NICKLAS - 21 LAICH,BROOKS - 8 OVECHKIN,ALEXANDER - 28 SEMIN,ALEXANDER |
With Jordan Staal, you have someone who likely has as much talent as Semin, but instead of phoning it in on the ice and alienating teammates he waited patiently for a chance to shine, which he finally has now.  Staal has been the consummate teammate, especially when you consider that he probably is more talented than many first line NHL centers yet was stuck for six years playing with third line talent. 
Take a look (again courtesy of the outstanding Frozen Pool tool) at his most frequent even strength linemates for the past five seasons:
2007-08
| | | |
| --- | --- | --- |
| 7.61% | EV | 16 CHRISTENSEN,ERIK - 11 STAAL,JORDAN - 25 TALBOT,MAXIME |
2008-09
| | | |
| --- | --- | --- |
| 23.81% | EV | 24 COOKE,MATT - 48 KENNEDY,TYLER - 11 STAAL,JORDAN |
2009-10
| | | |
| --- | --- | --- |
| 32.58% | EV | 24 COOKE,MATT - 48 KENNEDY,TYLER - 11 STAAL,JORDAN |
2010-11
| | | |
| --- | --- | --- |
| 21.33% | EV | 24 COOKE,MATT - 48 KENNEDY,TYLER - 11 STAAL,JORDAN |
| 21.27% | EV | 48 KENNEDY,TYLER - 14 KUNITZ,CHRIS - 11 STAAL,JORDAN |
2011-12
| | | |
| --- | --- | --- |
| 17.16% | EV | 24 COOKE,MATT - 48 KENNEDY,TYLER - 11 STAAL,JORDAN |
| 13.22% | EV | 9 DUPUIS,PASCAL - 11 STAAL,JORDAN - 26 SULLIVAN,STEVE |
| 12.67% | EV | 9 DUPUIS,PASCAL - 14 KUNITZ,CHRIS - 11 STAAL,JORDAN |
Not only is there no sign of Evgeni Malkin or Sidney Crosby anywhere, but in no year did Staal play any more than 3.22% of his even strength shifts with either Malkin or Crosby.  Despite this, Staal has scored 20 goals three separate times, including 25 goals in 62 games last season (.403 goals per game).  And know this - his .403 goals per game last season was 23rd overall among players who skated in 40 or more games and it placed him ahead of the goals per game pace of players like Jarome Iginla, Rick Nash, Marian Hossa, Jeff Carter, Thomas Vanek, Dany Heatley, Teemu Selanne, Zach Parise, Patrick Marleau, and even big brother Eric Staal. 
Going back to 2010-11, he had 30 points in 42 games, which was a .714 point per game pace despite playing over 40% of his even strength shifts with the likes of Tyler Kennedy, Matt Cooke and Chris Kunitz and which put him ahead of what was achieved that season by several two time 70+ point players, like Patrice Bergeron, Michael Cammalleri, Jason Pominville, and Olii Jokinen.  These facts, plus his ability to score 49 points or more in three of his past five seasons, are proof positive that he should easily be able to tack on 20 to 30 more points to his career high of 50 once he's given a chance to play with top offensive forwards in Carolina.
And if you look at Staal's 10 year, $60 million contract that he signed this past summer, it actually helps make the case for Staal's numbers going through the roof.  Ask yourself one simple question – would the Hurricanes commit $60 million to Staal if they didn't fully expect to play him in situations where he'll put up points that justify that kind of salary?  Sure, some top shut down defensemen can earn a huge salary even without getting many points, but that's simply not the case with a forward.  Make no mistake – Carolina will do all it can to have Jordan Staal provide them with an adequate return on investment, and that means putting up points, which is something he'll be more than capable of doing.
Lastly, the chance for Jordan Staal to play on the same team – and perhaps even the same line – as big brother Eric Staal cannot be ignored.  There's something about playing with a sibling that brings out the best in players.  Whether it's the Sedins, the Stastnys, the Courtnalls, the Brotens, or the Sutters, when you put siblings on the same team the results end up being that each one plays better because of it.  So in the end, there's a trifecta of circumstances coming together all at once for Jordan Staal – getting a big new contract, getting a chance to finally play top line minutes, and being on the same team as his big brother.  Everything is aligned for him to put up huge point totals this year - definitely more points than the we'll see from the enigmatic, disinterested Alexander Semin during what will likely end up being his last year in the NHL.
The Final Verdict
I probably went back and forth on my decision more times for this debate than for any other that's been covered in this column so far.  I've said before that one of the biggest traps to avoid in fantasy hockey is to value potential over proven results, and early on I thought this would be a perfect time to preach that since although Jordan Staal is just the kind of player who could rise to fulfill his potential (and in the process smash his career high in points) he's hasn't done it yet, and it might never happen.  But in the end I felt that things are indeed almost perfectly aligned for Jordan Staal to make a 20+ jump in his career high in points. 
Plus, as good as Alexander Semin has been in years past, he seems too much like a different player now, both in terms of output and attitude. 
And the truth is that he's never produced without being stapled to Ovechkin and Backstrom; plus, although Carolina does have talented players it's not clear that it will be enough to bring out the Alexander Semin of 2008-09 and 2009-10.  In the end, I think it will be pretty close, but I believe that Jordan Staal will outscore Alexander Semin during their first season in Carolina.
Previous Court Sessions from Rick Roos:
Write comment
Comments
(5)
Subscribe to this comment's feed