Welcome to this week's edition of Holding Court, a column where both sides of a fantasy hockey debate are argued just like in a courtroom, complete with a final verdict.  Then you, the DobberHockey readers, can comment on whether justice was properly served!  You can also leave ideas in the comments section for other debates to be settled right here in future editions of the column.
One of the greatest feelings in fantasy hockey is owning the league's highest scoring defenseman, especially if he ends up outscoring the next highest defenseman by a huge margin, just as Erik Karlsson did last year when he ended up with 78 points, which was a staggering 25 points more than the two next closest defensemen (Brian Campbell and Dustin Byfuglien).  Karlsson's offensive outburst also meant that he accomplished an interesting feat – finishing within the top 25 in overall NHL scoring as a defenseman (he actually tied for 10th overall).    When something like this occurs, the question naturally becomes - when will it happen again?  With that in mind we come to our debate for this week – will any NHL defenseman finish in the top 25 in NHL scoring this upcoming season?
 No – it's a rare feat and Karlsson is not a lock to do it again
One of the biggest traps that fantasy hockey GMs can fall into is thinking that just because something happens one year it will happen again the next.  Pop quiz – guess when was the last time that any defenseman finished in the top 25 in NHL scoring for two consecutive years?  Believe it or not, you actually have to go all the way back to the 1999-2000 (Brian Leetch, tied for 17th) and 2000-01 (Nicklas Lidstrom, tied for 21st) seasons.  Surprised?  You shouldn't be - only three times since the 2000-01 season has any defenseman finished in the top 25 in scoring (Lidstrom tied for 25th in 2005-06, Mike Green tied for 20th in 2009-10, and Karlsson tied for 10th last season).  Basically, it's a pretty rare feat, and even rarer to happen two years in a row.
And for those who think that Karlsson's achievement at the young age of 21 makes him a lock to repeat it in coming years, look no further than Gary Suter (18th in 1987-88) and Sergei Zubov (22nd in 1993-94), both of whom accomplished the feat at age 23 and never againcracked the top 25 in scoring.  In fact, the vast majority of defensemen who finished in the top 25 in NHL scoring more than once are either already in the Hall of Fame (Paul Coffey – eight times in the top 25, Brian Leetch – five times, Ray Bourque – three times, Al MacInnis – twice) or a lock for the Hall (Nicklas Lidstrom – twice).  The only non-HOF defenseman who accomplished the feat twice since 1980-81 was Phil Housley (tied for 22nd in 1991-92; tied for 23rd in 1992-93).  Sure, it's too early to tell whether Green or Karlsson (the only active players who've made the top 25 in the past) will end up in the HOF, but realistically the odds are they won't; and looking at guys like Suter and Zubov, you can see that when a young player makes this list it's far from automatic that he'll make it again.
Also, statistics show that Karlsson reaching the top ten in NHL scoring last season actually makes it less likely that he'll even make the top 25 this coming season!  There have been a total of three defensemen who made it to the top ten in NHL scoring since the 1980-81 season – let's take a look at how they fared the year after their top ten achievement:
Paul Coffey – 1983-84 (2nd), 1984-85 (5th)
Ray Bourque – 1986-87 (9th), 1987-88 (tied for 31st)
Al Macinnis – 1990-91 (9th), 1991-92 (tied for 33rd)
As you can see, only Coffey even made the top 25 the next season, and MacInnis never even ended up cracking the top 25 again after 1990-91.  It just shows – sometimes making a very big splash doesn't even lead to a somewhat smaller splash the next season.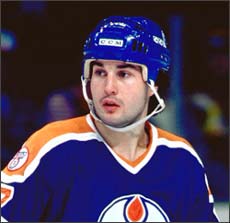 You'll also notice that I haven't mentioned Mike Green yet, despite him having made the list as recently as 2009-10.  Although no one can take away Mike Green's accomplishments from 2008-2010, this is a guy who scored all of 11 points in 46 regular season and playoff games in 2011-12.  It might be that he can somehow find a way to once again stay healthy for a full season, and that he'll somehow be able to produce like his old self if he manages to stay healthy, but there are just too many question marks to consider him as having any realistic shot at finishing in the top 25 in NHL scoring next season, if ever again.
Beyond Green and Karlsson, no NHL defenseman has shown anything that would lead us to expect him to have what it takes to make the top 25 next season.  After Karlsson, the highest scoring defenseman in terms of points per game last season who played in 60+ games was Dustin Byfuglien, but his 0.80 points per game would only project to 65.6 points over a full season – not enough to reach the overall top 30.  After him, the next highest scoring average among defensemen who played more than 60 games was Zdeno Chara, who had a mere 0.66 points per game pace.   What's more, other than Duncan Keith, there isn't active another defenseman in the NHL who has ever recorded 69 points (which would've tied for 25th in overall NHL scoring for each of the past two seasons) or more in a single season in his career.  And Keith's 69 points in 2009-10 is an astounding 24 points higher than he has scored in any other season in his career, making it just about as likely for him to hit 69 points again as it would be for Brian Gionta to once more equal his career high of 89 points.
The truth is that Karlsson's 2011-12 season was one for the ages, with the key word being "one".  In other words, it was just one season, and both past history and current reality can only lead to us to conclude that he won't be in the top 25 again next season, and neither will any other NHL defenseman.
Yes – Karlsson is almost a lock, and others could join him
Okay, let's start with a pop quiz here – guess how many times a defenseman finished in the top 25 in scoring between the 1982-83 and 1996-97 seasons?  How about every single time!  Yup, at least one defenseman finished in the top 25 in scoring for each and every one of those 15 consecutive seasons, and five of those seasons actually had more than one defenseman crack the top 25, including fourdefensemen in the top 25 for 1990-91.  So forget what you read above about this being such a rare occurrence that happens only once in a blue moon.  In truth, it's happened quite often and will happen again, including next season.
And let's also talk about key data that actually points to (not away from) Eric Karlsson once again finishing in the top 25 this coming season due to him first making the list at such a young age.  How about this to chew on - there have been only two defensemen (Paul Coffey and Brian Leetch) since 1980-81 who ended up in the top 25 before they turned 23, and both of them again cracked the top 25 the very next season after they first made the list (Coffey – finished tied for 13th in 1982-83 at age 21, and finished 2nd in 1983-84 at age 22; Leetch – finished 19th in 1990-91 at age 22, and finished 9th in 1991-92 at age 23).  Considering that Karlsson was 21 during his epic 2011-12 season, this tidbit is more persuasive than any numbers argument that you saw above and easily outweighs the points raised about Suter and Zubov.
Another thing to remember is that NHL scoring is not only down overall, but the gap in points between the highest scoring defensemen and the highest scoring forwards is lower now than it was in any of the most recent years when this feat was accomplished.  Here's a comparison of the average of the points for the top five forwards in NHL scoring and for the top five defensemen in NHL scoring for last season, as well as for the three previous seasons where a defenseman was in the top 25 in NHL scoring:
2011-12 season: average points of top five forwards (93.2); average points of top five defensemen (57.4)
2009-10 season: average points of top five forwards (105.2); average points of top five defensemen (63.4)
2005-06 season: average points of top five forwards (112.0); average points of top five defensemen (70.6)
2000-01 season: average points of top five forwards (105.0); average points of top five defensemen (65.0)
So we see that for last year, there was a 35.8 point difference (93.2 – 57.4) between the average for the top five forwards and the average for the top five defensemen.  That difference is at least 10% lower than the difference for any of the three previous seasons where a defenseman was in the top 25 (41.8 for 2009-10, 41.4 for 2005-06, 40 for 2000-01).  This means the scoring gap between forwards and defensemen is getting smaller, which will only serve to make it even easier for an offensive dynamo like Karlsson to once again crack the top 25 again next season.
It's also far too premature to write off Mike Green.  Look at Brian Leetch and Nicklas Lidstrom as examples.  Leetch made the top 25 in 2000-01, and that was after posting a mediocre 26 points in an injury-plagued 50 games during the 1999-00 season.  And Lidstrom's return to the list in the 2005-06 season came after a 2003-04 season when he posted only 38 points in 81 games.  This shows that special players like Leetch, Lidstrom, and Green can return to offensive form after recovering from injuries and/or suffering through subpar offensive seasons.
Here's something else to realize – it doesn't matter if no active defenseman in the NHL (besides Green or Karlsson) has put up past point totals and scoring paces that would suggest they could crack this list next season.  Since 1980-81, here are the ages of the players when they cracked the top 25 for the first time (Paul Coffey – 21, Ray Bourque – 23, Larry Murphy – 25, Gary Suter – 23, Al MacInnis - 27, Brian Leetch – 22, Phil Housley – 27, Sergei Zubov – 23, Nicklas Lidstrom – 29, Mike Green – 24, Erik Karlsson – 21).  If you average these ages together, you get 24.1 years, which means that if someone new is going to make this list for the first time, it won't be a veteran who already has broken out.  Instead, it will be someone who does what Karlsson and Green did and explodes in their early 20s to put up a monster season - - maybe a highly touted player like Alex Pietrangelo (age 22), Michael Del Zotto (age 22), or Oliver Ekman-Larsson (age 21), to name just a few.
Whether it's Karlsson having another epic season, Mike Green recapturing his 2008-2010 form, or a new defenseman breaking out to make the list, there are simply too many ways for this to happen for anyone to deny that it is all but certain to occur again this coming season.
The Final Verdict
As with previous editions of this column, each side has some very solid arguments.  However, the one point which stands out is that both of the other defenseman since 1980-81 who made the top 25 for the first time before age 23 (like Karlsson did last season) went on to accomplish the feat again the very next season.  It also was interesting to see the examples of Nicklas Lidstrom and Brian Leetch to suggest that Mike Green's return to the top 25 is more realistic than many (especially his frustrated owners) now probably imagine.  In the end, the final verdict is that a defenseman will, in fact, finish in the top 25 in NHL scoring next season.
Previous Court Sessions:
Write comment
Comments
(5)
Subscribe to this comment's feed