*
The AHL Final is set - Grand Rapids vs. Syracuse. Detroit vs. Tampa Bay. Danny DeKeyser is healthy and will be playing in this one for the Griffins.
*
My thoughts on regulation from last night:
Pittsbugh's best effort of the series (duh). Neal was great. Malkin was on another planet - dangling all comers, including Chara a few times.
David Krejci's sensational postseason run continues. he has 47 points (and counting) in his last 46 postseason games. 
And OT:
What a game - Rask and Vokoun were sensational. The refs didn't call anything, but that tends to be the case in postseason overtime. Both teams had numerous chances to win before Marchand made a heck of a pass to Bergeron for the winner. Still waiting for a marathon 4 or 5 OT game, though!
*
I'm taking part in a mock NHL arbitration trial this weekend in Vancouver. It is a part of the National Academy of Arbitrators annual conference. A fitness client of mine is also a labour lawyer, and he asked for some assistance in preparing his brief and presentation.
Representing the team, in this case, is a guy you may have heard of – Brian Burke. Although the case is pretend, it will be quite the experience to present a case against Brian Burke!
And it will also be quite interesting to see how an actual NHL arbitration case plays out. It is more of a leverage tool nowadays, but it has some teeth (look at Weber's massive award a few years ago as an example).
*
The Calgary Flames are bringing goaltender Karri Ramo over from the KHL, and I think he has to be considered the odds-on favourite to be the starter for the team for this upcoming season. From Andy Strickland, it sounds like the two sides will agree officially on a multi-year contract once free agency opens (July 5th).
Ramo's DobberProspects profile.
*
The Penguins have put together a fantastic "behind-the-scenes" series of videos from this season – IN THE ROOM. Check them out – I love this sort of stuff.
*
Duncan Keith is carving (pun intended) out a reputation as one of the dirtier players in hockey. He's a heck of a defenseman when he's not retaliating with bush league moves like this.
The NHL agreed, giving Keith a one game suspension for his idiotic play against Carter on Tuesday evening.
*
Slava Voynov is going to get paaaaaaaaaaaid this summer. He's been fantastic for the Kings this spring, and he's quietly developing into one of the best young two-way defensemen in the league.
*
Mike Ribeiro rejected a three-year $14 million offer from Washington back in March. I don't blame him looking at the barren UFA market. Ribeiro is arguably the top offensive player available, and even with his faults, he is still a proven top six center who can play on the top line (with good wingers and a defensively responsible center or two behind him).
Where does Ribeiro go? What teams out there have both cap space and the need for a top six center?
*
Colin Wilson broke out in 2013 – here's a look at his rapid improvement from On the Forecheck.
With Martin Erat gone, a featured role on the top line is up for grabs this fall, and Wilson is as well-positioned as anyone to take charge. There has been talk of playing him at center, but personally, I see his skating as a bit of an issue.
While his recovery from shoulder surgery appears to be going well, we can't help but wonder if it will hamper him at the start of the 2013-14 season. In the long run, however, he should be a contender to lead the team in scoring.
*
I may be alone, but I love the new Dallas colour scheme. The logo I am a bit indifferent about – apparently it looks much better in person (much like the Nashville "gold" jerseys). But I love the green the Stars have chosen – it is a unique and beautiful colour, and it is nice to see them go away from the boring black/white monotony that jerseys have become.
Here is Loui Eriksson wearing the road white jersey:
*
ESPN put together a spectacular 30 for 30 "short" on the Clint Malarchuk incident. Well worth your time to watch this.
*
Friedman's latest 30 Thoughts (always worth reading).
*
Looking through CapGeek, as I tend to do each summer/off-season. Man, the Maple Leafs are in a good cap situation, especially with the two buyouts. They don't have many players signed beyond next season, and that flexibility combined with an improved young core should allow Dave Nonis a lot of flexibility and options when pursuing players.
*
Some changes for NHL 14:
*
Pavel Datsyuk the… goalie? Datsyuk tweeted this picture out yesterday.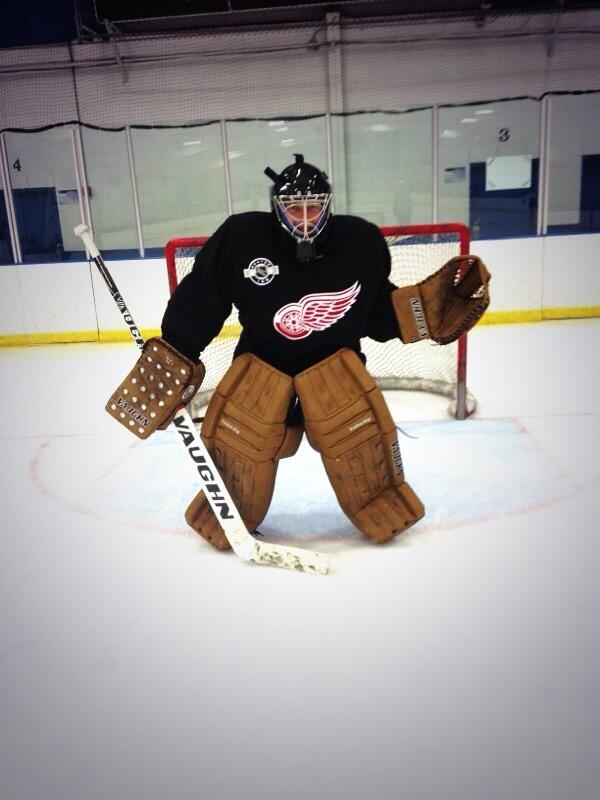 *
Canucks post – finding a way to fix the fourth line (my suggestion – sign former 24-goal man Blake Comeau).
And another Canucks post – looking at a potential Loui Eriksson/Alex Edler trade.
I don't see Edler getting traded, but this is a long off-season and it is a topic I wanted to explore it a bit more. It doesn't sound like the Canucks will be making any significant changes to their core (at least not yet), but if they do, Edler is the most valuable trading chip they have.
*
Looking at the Pittsburgh Penguins today – cap savings are going to be the name of the game for the Penguins next season (and beyond), especially as they have to find a way to lock up Evgeni Malkin long term. He is slated to become a UFA in the summer of 2014.
2013-14 sleeper pick: Beau Bennett
Bennett is an obvious choice here – it isn't likely that Morrow/Iginla/Dupuis will all be back, which opens up a top six spot. Bennett is a talented young winger, and he acquitted himself nicely as a rookie this year. He was well ahead of where many had expected him to be at this point, I think. He makes only $900k per season, which will help Pittsburgh's cap situation tremendously (especially if they can slot him in on L1 or L2).
Longer term sleeper pick: Brian Dumoulin
Dumoulin was acquired from Carolina in the Jordan Staal trade. He is a very talented two-way defenseman with offensive upside. And he isn't far off from the NHL, either. The Penguins have Martin/Orpik/Letang/Niskanen all signed through next season. Only Martin has more than one year left on his current deal, though.
There are a lot of good young defensemen for Dumoulin to compete with – Bortuzzo, Despres, Maata, Scott Harrington, and Derrick Pouliot. However, Dumoulin may be the best fit for Pittsburgh within the next year or two – his skating is NHL calibre already, and he had a productive AHL rookie campaign (six goals, 24 points).
*
For those of you in the British Columbia region, I will be on CTV this morning around 8:30am to talk about bodyweight fitness training.
And my latest fitness post – the importance of simplicity and consistency in training.
*
Logan Couture or Derek Stepan? I'd take Couture, both in real life and fantasy, especially with Tortorella now out in New York (he played the crap out of Stepan). But both of them are great centers.
I really like both of these players. Long term they both have really strong upside. Neither one is going to challenge for scoring titles but both have futures on your fantasy squad if you can acquire them. I have fewer question marks about Couture however. He just doesn't register to me as a risk. You pretty well know what you are getting, which is about 0.75 points per game. That's fantastic and there's upside for more.
I'd love to say I know I am getting that from Stepan. If he keeps getting the minutes he did this season he should wind up scoring right at that sort of pace and there's certainly upside for more but I can also see more downside.
*
Mark Streit turns 36 in December and he wants $5 million per for three more years. He will get it, too. In a sheltered defensive role with a ton of PP ice time, he can be a huge difference-maker in this league.
The biggest winner in Streit leaving Long Island? Matt Donovan. He's been a favourite of mine for a year and a bit now, and he dominated the AHL this past season. He's a do-it-all defenseman who plays with a ton of confidence. 
Write comment
Comments
(9)
Subscribe to this comment's feed