*
My latest Canucks post - two forwards that could be targetted in a potential Alex Edler trade.
I almost made it one whole day without Canuck talk! Sorry guys.
*
The DobberHockey Fantasy Prospects Report is out in a week. This will get you ready for your draft, as well as the NHL Draft. It will also help you figure out who to target in your keeper league. The well-known prospects (Bjugstad, Trouba, and so on), as well as the sleeper picks to have on your radar (Trocheck, Panik, and so on). Pick it up for only $2.50 more as part of the Keeper League Fantasy Pack.
*
Taking some questions for tomorrow's ramblings (preferably fantasy hockey related). Fire them away below.
*
DobberHockey member Jake Elliot is helping organize a ball hockey tournament (PlayOn!) in Toronto on June 1st/2nd and is in need of some referees. They must be 16 years of age (Connor McDavid could be there), but you don't need any prior refereeing experience (much like the current NHL referees it appears).
Free lunch/dinner. If I was in Toronto, that would be all I would need to hear. Give Jake an e-mail if interested (jelliot at playon.ca) or check out the site for the PlayOn! tournament.
*
So… Sidney Crosby.
Crosby "only" finished with two points (and six SOG), but he absolutely thrashed Ottawa's defense. They were physical against him all game long, but he still found a way to get to open ice and create, as only he can.
The rest of the Penguins were great, too.
James Neal's best game of the playoffs and the puck finally started to bounce his way. Two goals, an assist, and nine SOG in less than 15 minutes of ice time. Not a bad depth luxury.
Jarome Iginla also potted a pair, and he played even less than Neal – 13:54 to be exact.
Kris Letang had four helpers in 22 minutes of ice time – low for him, as the Penguins could spread their minutes around after getting out to such a big lead.
I don't really think Ottawa played all that bad at even strength – too many penalties combined with Pittsburgh suddenly remembering how good they are ultimately did the Sens in.
Craig Anderson was sensational early on – he was the only reason Pittsburgh wasn't up two or three within the first 10 minutes. But even he couldn't hold the fort down as the barrage continued.
Gonchar was awful – minus-4, two bad penalties. He needs to be Ottawa's third or fourth best defenseman every night, and he was far from it on Wednesday night.
*
The second annual top 50 NHL trade value rankings is now out! Close to 10,000 words – however, no blood, sweat, nor tears were shed. It was a lot of fun putting this together, and even when (I am not even assuming there will be total agreement) you agree with any of my rankings, hopefully me rationale and criteria allows you to see how I ended up there.
Crosby stays at one, but there is a new number two (and no, it isn't this guy).
A few more notes:
It was really hard (see: impossible) to evaluate goaltenders and players together. For various reason, goaltenders just don't carry the value that players do on the trade market.
I focused more on contract this year than last, particularly because of the declining salary cap.
This is trade value. Not the top 50 best hockey players. Age, contract, and other factors were taken into consideration.
*
Alain Vigneault is a great coach, but a fresh voice was needed in Vancouver. Vigneault won't be out of work long if he wants to get right back into it – I know Dallas has interest in him, and there may be other vacancies opening up soon too.
As for whom the Canucks bring in… lots of options. Some good AHL coaches – Dallas Eakins, John Hynes, and so on. And capable NHL assistants, like Brad Shaw, are around, too.
*
And, of course, coaching changes can have significant impacts on the production of a team and its respective players. Vigneault's radical zone start strategy helped the Sedins win back-to-back Art Ross trophies. But he also wasn't always the best at doling out minutes to his secondary scorers, and this made Vancouver a tough team to target in the later rounds (their top PP unit saw almost the entire two minutes every man advantage opportunity).
If Vigneault does go to Dallas, I'd be curious to see how he deploys Jamie Benn. With a purely offensive role, Benn could explode production-wise. The Stars would need to bring in a center or two to do the defensive stuff first, though.
*
Ryan Johansen was benched during the AHL postseason. Not a promising sign after what was a pretty good season from him. Offseason motivation, perhaps?
"I don't have any indication that he'd be unhappy," Kekalainen said. "I really don't care if he was unhappy.
"The reason we sent him to the minors was that it would be a great experience for him. The AHL playoffs have been a great learning experience for some of the best players in the NHL today."
Johansen did not return calls seeking comment.
*
Dobber compares the Tampa Bay/AHL assembly line to Detroit – and I don't disagree. The amount of young talent in the Tampa system is absurd – NHL ready talent, too. Names like Ondrej Palat and Richard Panik may not "wow" you, but they are both ready to play regular minutes in the NHL.
*
An entertaining read from a Vancouverite who became a Panthers season ticket holder (and how he got to go to Sunrise for a game, too).
*
His game hasn't changed all that much:
*
Alex Burmistrov wants out of Winnipeg. Too bad he's an RFA with little leverage. Although he is Russian, so the leverage factor is increased with the KHL. Do the Jets give in to his wishes? I don't think so, personally.
I mean, he's not a necessary piece of that team. He's a really good young player, but the Jets have Little, Jokinen, Scheifele, and Slater up the middle for next year. And a few of their other wingers can play C at times, too.
This is an interesting blurb from the above link:
The Jets attempted to trade Burmistrov and reportedly had discussions with the Ottawa Senators, Buffalo Sabres and New York Islanders at the deadline. The names Jakob Silfverberg, Drew Stafford and Kyle Okposo have all been attached to Burmistrov trade rumours.
*
An offseason look at the Dallas goaltenders – my latest for DefendingBigD. The team is pretty much set in goal (assuming Nilstorp re-signs to back up Lehtonen).
*
Looking forward to this one (with subtitles, of course) – a biopic of Valeri Kharlamov:
*
Halifax destroyed London on Tuesday evening at the Memorial Cup. Detroit prospect Martin Frk was fantastic, netting a hat trick. But how hard is it to evaluate Frik considering the fact that his linemates are going to go 2 and 3 at the draft this June?
He may be missing a vowel or two, but Frk looks like another great young forward for the Wings. Nyquist, Tatar, Jurco, Pulkinnen, Jarnkrok – perhaps the most underrated prospect pool in hockey.
Wow:
*

Don't rule out the Lightning making a move for a goalie this summer, even with Lindback and Bishop in the fold. Oh, and Riku Helenius is returning to the organization, too. He's been in the AHL this season but has returned to Finland to be with his ailing mother.
Helenius definitely has NHL upside – and at 6-3, he's a shrimp next to Lindback and Bishop. He was originally a 1st round pick (15th overall in 2006), but he has only one NHL game under his belt since that time (the rest split between the WHL, SEL, Finland, and the AHL).
*

The Habs have signed 2012 2nd round pick Sebastian Collberg to an ELC. He may be headed over to play in the AHL next season.
Also, they announced that Alexei Emelin will be out for six months after undergoing ACL/MCL reconstruction. I guess that will teach him never to attempt one of his huge open ice hits on Milan Lucic again. Yikes.
*
Friedman's latest 30 thoughts is here.
Love this quote:
One coach on Niklas Kronwall of the Red Wings: "He is taking it on his shoulders. It's like [Mark] Messier determined to prove he can win without [Wayne] Gretzky."
And another good one:
Great line from Ottawa Senators GM Bryan Murray about Chris Kunitz, who he signed in Anaheim: "When we were playing Anaheim in the 2007 final [Murray coached Ottawa then], I was mad at something Corey Perry did and yelled at him. He said, 'That's why you drafted me.' Kunitz is the same."
*
My latest fitness post – applying progressive overload (layman's terms – making your workouts harder) to your training.
*
Jake Voracek got into a car accident in the Czech Republic. He was fine after. His car... not so much. Did he get lucky or what?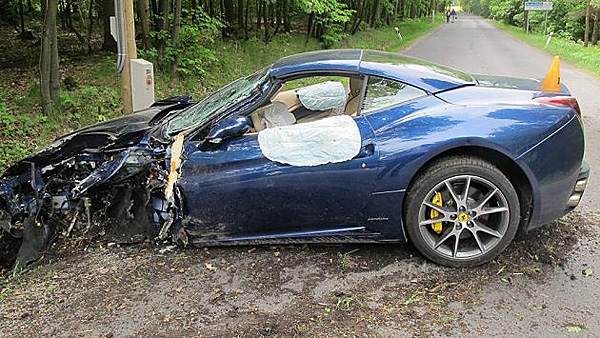 *
Write comment
Comments
(13)
Subscribe to this comment's feed