A few weeks ago, I started a thread on the DobberHockey forums with the goal of discussing several highly-touted prospects that I have been wrong about in recent years. The purpose of my post wasn't to highlight my inability to be a judge of hockey talent, but to see if there are any trends we can make note of to avoid repeating past failures when evaluating players now and in the future.
Although he was never really a prospect worth watching in fantasy hockey circles, Ryan Parent was expected to become a very good NHL defenseman. He was big and strong, and was a star for Canada internationally. He earned comparisons to Adam Foote – high praise for any young defensive defenseman.
There were several warnings signs with Parent from the beginning, but several NHL teams ignored them (either by choice or by accident). The biggest red flag – a lack of production at lower levels.

Even though he focused on the defensive side of the game, Parent's lack of production should have been an early warning sign. He scored only 10 goals in 227 OHL games, well below the production of a few draft peers and a former team mate:

 

Marc Staal – 23 goals in 236 games (12th overall in 2005) 
Jakub Kindl – 26 goals in 176 games (19th overall in 2005) 
Dan Girardi – 21 goals in 230 games (undrafted)
Parent also sustained a few injuries that likely hurt his development, and he was never really as dominant defensively as many in the media and hockey world hyped him up to be.
Anyway, back to my topic on the forums. Let's discuss some disappointing players to see if any warning signs were ignored.
*
Oscar Moller (Warning Sign – Rushed to the NHL)
Moller was one of the best prospects I saw come through the WHL. He was small, but quite gritty and skilled. He was the prototypical small forward who played bigger than his size. Playing a physical brand of hockey didn't hurt him at the WHL level, but the Kings put him in the NHL as a teenager, and he suffered a few injuries. Warning sign #1.
Moller is now over in Sweden, where he is one of the best forwards in the SEL. He is still young and an NHL return isn't out of the question, but he went from can't miss prospect to playing in Europe mostly because the Kings rushed him. It is too bad he wasn't a bit younger – the Kings boast terrific forward depth now, and Moller would likely have stuck around in the WHL and/or the AHL for a few seasons, where he could have gotten a bit stronger and more able to handle the strength of NHL defensemen.
*
Steve Bernier (Warning Sign – Lack of Production)
When the Canucks failed in their bid to sign David Backes in the summer of 2008, they turned their attention to another young NHL power forward – Buffalo's Steve Bernier. They traded multiple draft picks to the Sabres in exchange for Bernier, and many in Vancouver immediately began pencilling him in alongside the Sedin twins. Why? He seemed to be a great fit, on paper at least. He was big and strong, and he was a right-handed shot.
However, the club had ignored his lack of production. After scoring 14 goals in 49 games with the Sharks as a rookie in 2005-06, Bernier struggled to hold down a consistent top-six spot in the NHL. He scored 15 goals in his first season with the Canucks, and only 11 in his second. He didn't have the hockey sense or the skating ability to keep up with Daniel and Henrik, and the Canucks ultimately flipped him to Florida in a trade.
*
Peter Regin (Warning Sign – Small Sample Size)
I was very bullish regarding Regin after the 2009-10 season. He was Ottawa's best player down the stretch and in the first round of the playoffs against Pittsburgh, where he lit the lamp three times in six games. I had him pegged for 20-25 goals the next season after he scored 13 in 75 games in 2009-10. However, Regin struggled mightily, scoring only three times in 55 games.
A nagging shoulder injury was a contributing factor (and he played only 10 games in 2011-12 because of it), but he simply didn't provide the offensive consistency in 2010-11 that Ottawa was hoping for. Now that he is fully healthy, perhaps he makes for a solid sleeper pick. The Senators have a number of talented young forwards in their system, and the 26-year-old Dane has quickly become a forgotten man.
*
Rostislav Olesz/Lauri Tukonen (Warning Sign – The Hype Machine)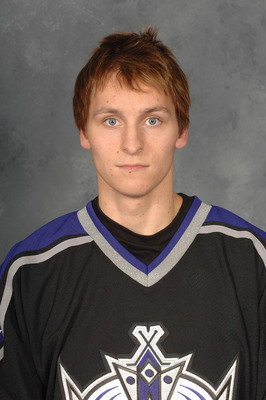 I didn't know much about either of these two prospects before their draft year of 2004. Tukonen went 11th overall to the Kings, and Olesz 7th overall to the Panthers. Olesz now plays in the AHL, but he at least has carved out a decent NHL career (57 goals in 355 games). Tukonen suited up for a grand total of five games with the Kings, recording no points.
I fell victim to the hype train that rolls around every December – known as the World Junior Championship. I now use the WJC as one of my primary ways to sell high on young assets, and I learned the hard way by buying high on Tukonen (in my first ever keeper league I moved Cam Ward straight across for him).
The World Junior tournament is probably my favorite hockey to watch – the intensity, the passion, and the skill is an unbeatable combination. Because it is a short tournament, the players push themselves to play at a higher level compared to regular season games. This may create false/inaccurate expectations for some of these players, especially from poolies who own them/want to own them.
Olesz hasn't materialized as the next Marian Hossa (I'd take Marcel at this point), and Tukonen failed to live up to the promise of this 2004 scouting report:
A very talented player. Good size Terrific skater with lots of explosiveness for a big man, and is very hard to knock off the puck. Blessed with a massive frame, Tukonen likes to be physically challenged and is a punishing hitter who has no trouble handling the rough stuff. Also highly skilled, he is a shifty puckhandler with a lethal shot and solid passing skills. One of his main assets is his good hockey sense and vision. Possesses natural goal-scorer instincts. Despite his terrific offensive arsenal, Tukonen is not one-dimensional as he does come back to help out the defense as well.
*
Jon Blum (Warning Sign – Exposure Effect)
I saw Blum play for the Vancouver Giants as he blossomed from a lanky rookie defenseman into the most dominant offensive defenseman in the WHL. He played with poise, smarts, and terrific instincts at both ends of the ice.
However, he has been a disappointment in pro hockey. Is it too early to write him off? You bet. However, I fell victim to what is known as the exposure effect.
The mere-exposure effect is a psychological phenomenon by which people tend to develop a preference for things merely because they are familiar with them. In social psychology, this effect is sometimes called the familiarity principle.
Because I saw Blum play a lot, I inflated both his ability and upside.
What prospects and/or players have you been wrong about, and why?
Write comment
Comments
(11)
Subscribe to this comment's feed