The DobberHockey Experts draft was conducted last Wednesday (October 3rd). The draft was held a few weeks later than usual this year (for obvious reasons). Drafting with a lockout in effect is difficult, but it didn't affect my strategy all that much.
All week long at DobberHockey, we will be profiling the rosters hand selected by the 16 participants. Today, hear what Gates Imbeau and Russ Miller have to say.
The League:
DobberHockey Experts League

16 Teams
Scoring Catgories:
Goals

Assists

Powerplay Points

Plus/Minus

Hits

Shots on Goal

Wins

Saves

Goals Against Average
The Rules:
No limit on number of free agent acquisitions

$100 for free agent auctions, which are conducted once per week during the season (weekly blind bidding)

Start 4 C, 4 LW, 4 RW, 6 D, 2 G

2 IR Spots

5 Bench spots
The GMs:
Jeff Angus

Darryl Dobbs

Glen Hoos

Gates Imbeau

Ryan Ma

Russ Miller

Peter Hadley

Mac Vincent

Steve Laidlaw

Anthony Lancione

Russ Bitely

Chris Wassel

Michael Amato

Steven S (Mabus)

Jacob S (Smackavelli)

Eric Daoust
My Team: 
Picking 14th was a game changer in terms of how my draft would turn out. No chance at the elite group of skaters, nor the top ranked goaltenders. So if you can't match up with the opposition in terms of obvious strengths, you might as well tackle the weaknesses. That is exactly the route I took after selecting Daniel Sedin, Mike Smith and Henrik Sedin with my first three picks.
In the fourth, I reached for Phaneuf to be part I of my II blue line anchors (the latter would be Ryan Suter in the eighth round). Their combined plus/minus should even out and provide a good balance across the board. To complete the core of my team, I selected Ondrej Pavelec and Dany Heatley – getting a save machine and my dual eligibility (right) winger.
The start of my second wave included Jakub Voracek, Brandon Dubinsky, Drew Stafford and Luke Schenn. Both Voracek and Dubinsky will be provided with every opportunity to succeed when the season finally starts and I hope to be the beneficiary. Stafford fits in well as my third right winger and Schenn helps Phaneuf boost up my hits.
Next up were Travis Zajac and Brian Gionta, two previously injured players. With extra rest, there should be little doubt that these guys can return to form once the season kicks off. Gionta will be counted on providing goals and especially SOG while Zajac fills an apparent gap at C. Capping off part II of the second wave includes a duo for my favorite picks and the remainder of the draft includes my regret pick, a monster hitter, a few sleepers as well as some extra goalie depth to use as trade bait.
Favorite Pick: 
When players like David Backes, Patrick Sharp, Dustin Brown and Scott Hartnell were flying off the board moments before my pick,  how could I not reunite the twins? Henrik Sedin at 47th overall was a pleasant surprise. My next duo of favorite picks came in the form of Dan Hamhuis (211) and Rich Peverley (238). After venturing off to fill other categories, I was able to come back and secure two players that fit the mold of my team to a tee. Hamhuis' back-to-back plus-29 seasons made it easier to draft last year's league leading hitter in Matt Martin and I am a big Peverley fan. Injury cut his season short, so if he regains that magic, I will be very pleased with that selection.
Anton Khudobin. I had Antoine Vermette queued up for three or four rounds. A split second decision changed the rest of my draft. I knew Dobber was going to pick him up, and I knew this was my last chance – yet I made the move anyway. Pengwin7 nailed it when he mentioned that a shortened season would mean less need for backup goalies. Over a full season, I wouldn't be too worried, but obviously that is no longer the case. C'est la vie. If anything, I hope that Tuukka Rask goes down so that Ma fails to repeat as champ.
Another player I wanted to pick up was Marcus Foligno. I was fully ready to select him over Brian Gionta at 206th but Glen snagged him up at 203rd. I recently ranked Foligno quite high in my roto guide and I wanted to back that up. I knew he was going to slip, but I failed to estimate just how far. Being only a few picks off had me feeling a little bitter. Kudos to Glen, Marcus will serve him well.
Erik Karlsson (12) & Shea Weber (15). Nothing wrong with picking up those two fine defensemen, in fact I am happy to see that position held in such regard. Takes guts to draft a D with a first round pick, so kudos! The top tier of blue liners went off the board fairly quickly so I was happy to land Phaneuf in the fourth at 51st overall.
Fantasy hockey and NHL13 see Pavel Datsyuk far differently. Datsyuk and Zetterberg to no surprise fell in the draft, landing at 64th and 68th, respectively. But nothing beats Joe Thornton falling at 92nd. Ma mentioned I should have taken Thornton over Heatley at 83rd overall, but I am happy with my decision. 
Ma and Angus. Can't brush off the defending champ. If his drafted team is not up to par, he will quietly trade for his needs and rocket himself up to the top tier of teams in no time. As for Jeff, not only did he draft a stellar team, he was publishing articles and posting the ramblings at the same time. Nice.  
Between the Lines. A failed auto draft left this team with a huge void in net. Without any movements, he will be sitting 45 points behind easily. Sadly that is only the tip of the iceberg. A deeper look will show that this team has virtually no hitters and are prone to likely be negative players. This tacks on another possible 30-point loss. Needless to say, this team's chances are shot well before puck drop. Only a full year lockout will save this team.
My Team: 
Drawing the second to last draft slot drastically alters any kind of draft strategy I might have been clinging to. All of the elite players would be gone and I'd have to make a judgement call as the picks rolled off the board.  Obviously, with 16 teams, goaltending will be at a premium and I hoped to snag two undisputed starters on my team.  I ended up with Ryan Miller and Anders Lindback, so mission kind of accomplished there (sort of like when Bush declared the war in Iraq over). I always try to take a balanced approach to my drafts, preferring players that contribute across the board in multiple categories versus those single category monsters.
Thanks to the inclusion of Hits vice Penalty Minutes, I had Shea Weber as my top rated defenseman, who will contribute in every category. My fantasy squads always have a strong defensive presence, so much so that I was called a "defence whore" in one league. In addition to Weber, I drafted Michael Del Zotto, Brent Burns, Cam Fowler, Ian White, John-Michael Liles, Jamie McBain and Marc-Andre Bergeron.
Jamie Benn was the easiest pick to make. His dual Left Wing and Centre eligibility also provides roster flexibility. As Centre is the least difficult position to replace via the waiver wire, I deferred taking another one until round nine, when I couldn't pass on Derek Stepan. The rest of my Centres are Alex Steen (L), Colin Greening and Chris "Grace" Kelly.
I agonized over whether to solidify my goaltending with my fourth selection by taking either Brodeur or Pavelec, but chose Left Winger Evander Kane instead. Brenden Morrow, Steve Sullivan, Guillaume Latendresse, Chris Higgins and Wojtek Wolski round out my Lefties.
Heading into the draft, I didn't want to miss out on Right Wing as it thins out quickly, but that wasn't to be. I ended up with Joe Pavelski, Radim Vrbata, veteran (cough) Daniel Alfredsson and Maxim Lapierre to round out an admittedly weak group. 
Favorite Pick: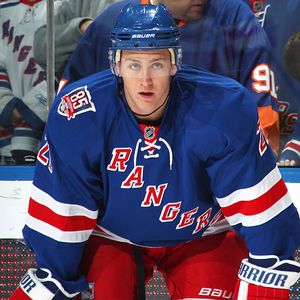 Derek Stepan with  my ninth pick. He'll contribute across the board, including hits and I had him ranked surprisingly amongst some pretty decent offensive players. You simply can't just look at points at the expense of the other categories. 
Daniel Alfredsson in round 11 (hmm, #11 can you say...karma?). There is an awful lot of optimism that goes with that selection. Maybe a shortened season is just what the doctor ordered. That said, I stand by this in one year leagues; proven over unproven. All but a select few NHL rookies don't even make my draft list. Tarasenko? Not a chance. Yakupov was taken in the eighth round and I got Stepan in the ninth. Will Yak put up better numbers than Stepan in our league? Doubtful.  I had Granlund on my radar, but in this league, how many Hits, Shots on Goal, Power Play Points will these unknowns (at the NHL level anyway) get versus a known entity? Exactly, you don't know. Slow and steady will win this race.
My decision to pass on a goalie and take Evander Kane with my fourth pick may leave me with a dental impression on my derrière if Lindback doesn't run with the starting job in Tampa. There was a mini-run on goaltenders in the fifth round; Crawford, Varlamov, Holtby, Brodeur, Dubnyk and Pavelec all gone, essentially forcing my hand to reach a bit for Lindback.
During the draft, there were a number of picks that were cruelly (like eating an ice cream cone in front of a fat kid, it's just not right) snatched right in front of me. I was unrealistically hoping that Hartnell would slip to me, but he was gobbled up by Dobber three picks before mine. Joe Thornton was a fantastic pick at 92 by Capped. Mikko Koivu was still around in the 7th, but the Commish Office scooped The Comish. Jason Garrison in round 11, but D'ohbber grabbed him just ahead of my pick. Lastly, I was set to select Pierre-Marc Bouchard with my last pick, but one more time Dobber ruined that thought. In hindsight, I should have taken PMB with my next to last pick and tried to get Wolski with my final selection.
Lord of the Rinks simply rocked his first ten picks, but once he took one category wonder Cal Clutterbuck, it was downhill from there for me. Lots of upside in players like Brayden Schenn, Chris Kreider, Marcus Johansson and Brendan Smith, but with potential comes unpredictability. That said, all he needs is for the bottom guys to not crap the bed and he'll be in contention.
GMG's Market Buzz pissed me off on several occasions, but that will happen when a guy drafts immediately in front of you. I took 80 seconds to decide between Miller and Smith and GMG selects Smith seconds after I take Miller. Phaneuf, Pavelec, Gionta and Peverley were all players that I really had my eye on in their respective rounds. I looked up and there they were, gone in 90 seconds.
The first real reach of the draft was Brian Elliott at 35, taken ahead of half a dozen starters. Elliott is a 1B option at best, but with great peripherals. Handcuffs are great for injuries, but getting into a 1A/1B situation is painful for the owner in a weekly start format. Other players taken too early in my estimation include Cory Schneider (20), Roberto Luongo (37), Anders Lindback (82), Cal Clutterbuck (162) and Chris Neil (187).
Despite loving the fact that Between the Lines went against the grain, deciding to forego his goaltending, that decision will ultimately turn out to be a fatal one in this league of sharks. Other than that, it's tough to single out any one team as a faller...we all have our weaknesses.
Players that were selected lower than they likely should have included Scott Hartnell (44), Joe Thornton (92), Ryan Kesler (148), Jose Theodore (151), Martin Hanzal (153) and Brian Gionta (206).
History has proven, never rule out Ma. I usually come away thinking his drafts aren't all that great, but he ends up making some kind of weird deals that magically work out for him! This year, he had a strong draft, so look out. I also thought Dobber had his best draft since inception of the Experts league.  You're all weiners in my eyes.
Likely to Finish Last:
Between the Lines if he does not address his goaltending.
Write comment
Comments
(4)
Subscribe to this comment's feed