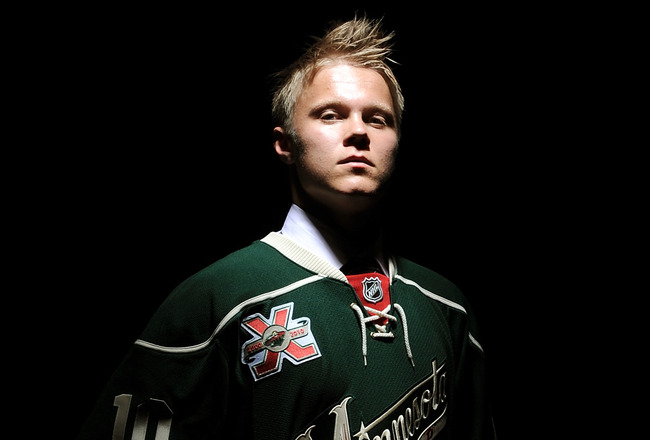 A Finn at the top, a pair of dazzling Russians, and another late round gem in Detroit...
Of the 10 players who made the final cut on my 2011 list, only five have graduated on. Top graduate, a player must suit up for at least 25 games at the NHL level. Brayden Schenn and Ryan Johansen, the top two players from last year, have both graduated. Schenn is settling in nicely in Philadelphia, and projects to be the club's second line pivot behind Claude Giroux for the next decade. Johansen has had minimal impact this season, but he has done pretty well for himself in very limited duty on an awful Columbus team. He is going to be the top center there within the next few years.
Nino Niederreiter's production has been poor (and that is putting it nicely – one goal and zero assists in 49 games) but he has battled both injury and a lack of ice time. His top end upside isn't elite, but he still should be a very good second-line winger. Brett Connolly will be a very good NHLer if he can stay healthy, and he has been able to do that this season. Matt Calvert is having another very good AHL season and should see full-time duty in Columbus in 2012-13.
I had no trouble picking Vladimir Tarasenko and Evgeni Kuznetsov for a second consecutive year, but I did have trouble placing the two Russians on my list (especially Kuznetsov). My three year scope of evaluation comes into play on all decisions, and it hurts the value of most Russians playing in the KHL, as their timelines to the NHL are usually cloudier than those playing in North America.
I have some general rules when it comes to building a team in a keeper league. One of the more important ones is to not plan beyond a two or three-year window. You are not building a real NHL club, and too often I see poolies place too much focus on youth and prospects instead of trying to add players who could help them win now. Using this rule, take a look at your team(s). Can you realistically say you will have a shot at winning the league at some point within the next two or three seasons? If not, time to scrap the rebuild and start adding proven NHL talent.
This list is in order – I wouldn't trade the fourth player for the fifth player, and so on. I am basing my rankings on a standard keeper league with an emphasis on offensive production (goals and assists).
1.  Mikael Granlund – Minnesota Wild
Granlund moves into the top spot after placing fifth on this list last year. Simply put, he is a human highlight-reel machine with a hockey stick in his hand. He combines smarts, creativity, and ridiculous hands to make opposing defenders and goalies look foolish on a regular basis. He is tearing up the SM-liiga once again, and is a committed to coming over to North America this fall in hopes of making the Wild. The Wild have quietly built one of the best prospect pools in the league, and Granlund is right at the top of it. He is shifty and skilled, and he plays a North American style of game (he can excel in close-checking games and on smaller ice surfaces).
Like most undersized NHL stars, Granlund uses his lack of size as an advantage. He's hard to catch, and even harder to hit. Some think Granlund needs some time in the AHL to adjust to North American hockey, but I don't. Expect big things from the small Finn.
Player Comparison: Patrick Kane
One Year Upside: 20-40-60
Three Year Upside: 35-50-85
2.  Jaden Schwartz – St. Louis Blues
Jaden Schwartz is going to become a household name in the hockey world this spring. He turned professional a few weeks ago and promptly joined the Blues roster. In his first ever NHL game, he scored a goal, and led the entire team in power play time. So much of his game resembles Zach Parise – his tenacity, his quick and accurate shot, and his ability to consistently outwork everyone on the ice. Schwartz has overcome some serious off-ice issues (the death of his sister), and often times perspective like that can give a player an added edge on the ice.
Schwartz needed only two years at the NCAA level before developing into an NHL ready player. Like Granlund, Schwartz uses his lack of size (5'9", 180 pounds) as an advantage. He's fearless with the puck on his stick (again, much like Parise), and he is going to be a prolific goal scorer at the NHL for a long, long time. If Patrik Berglund can ever figure things out, the two could become a really potent duo on the top line in St. Louis for the next decade.
Player Comparison: Zach Parise
One Year Upside: 20-30-50
Three Year Upside: 35-35-70
3.  Jonathan Huberdeau – Florida Panthers
The lanky pivot has made easy work of the QMJHL over the past two seasons. In 104 games, Huberdeau has totaled 73 goals and a whopping 177 points. He missed an extended period of time this season due to injury, but he is back and playing a large role for the dominant Saint John Sea Dogs. Huberdeau is NHL ready in terms of skating and talent, but he was sent back to junior to get bigger, stronger, and better at handling physical play on a consistent basis.
It wouldn't be a leap to expect Huberdeau to step in and center Florida's second line next season. He could even overtake Stephen Weiss for the top spot by the time the 2012-13 season wraps up. He led the team in preseason scoring this past fall, but the team (smartly) did not want to rush him into the NHL.
Huberdeau's favorite player is Dallas center Mike Ribeiro, and there are many parallels – great hands, great awareness, and an ability to put the puck in great spots for linemates. However, Huberdeau has another level or two in terms of upside compared to Ribeiro – for one, he will develop into a much better goal scorer.
Player Comparison: Vincent Lecavalier
One Year Upside: 15-40-55
Three Year Upside: 30-55-85
4.  Vladimir Tarasenko – St. Louis Blues
Tarasenko is the most NHL-ready player on this list. He is putting up points with ease in the offensively-stingy KHL, and his play has many in St. Louis excited for his 2012 NHL debut. His production is even more impressive when considering the role he is currently playing. Since being traded to SKA St. Petersburg, he has been playing around 12-13 minutes per game, but he is still finding a way to produce (in a recent playoff game he recorded this spectacular hat trick).
Tarasenko is one half of the next wave of Russian hockey talent (more on the other player soon). He is skilled, strong, feisty, and creative. The KHL would hate to lose him to the NHL, and you can bet that he is going to receive a very lucrative offer to stay. Drafting him this summer in your pool is a risky proposition, but having him spend another year in Russia beats the alternative of missing out on him altogether.
He combines power and finesse like Alex Ovechkin. He doesn't physically dominate like Ovechkin does, but he makes sure opposing defenders know when he is on the ice. The Blues are really deep at forward, but they lack high end talent (no slight to David Backes, TJ Oshie, and company). Tarasenko has the most upside of any player in the organization, save for Alex Pietrangelo.
The best team in the league also has two of the best prospects in the game – things are looking up in St. Louis.
Player Comparison: A more physical Claude Giroux
One Year Upside: 25-25-50
Three Year Upside: 30-45-75
5. Sven Baertschi – Calgary Flames
The slow, painful rebuild that many are predicting for Calgary may be sped up a bit by Baertschi. The skilled Swiss winger was recalled by the Flames on an emergency basis this season, and he made the most of his short time in the NHL (three goals in five games). He produced a ridiculous 94 points in only 47 WHL games, forming arguably the most potent duo in junior hockey alongside Blues prospect Ty Rattie.
Baertschi is a bit on the small side (there seems to be a theme developing with this list), but he plays big and loves to take the puck to high traffic areas. It is rare to call a 13th overall draft pick a "steal," especially one year after being selected, but that is exactly what Baertschi is.
I wouldn't be surprised to see him lead the NHL rookie scoring race next season. Calgary has a need for offensive talent, and Baertschi is exactly that.
Player Comparison: A better-skating Mike Cammalleri
One Year Upside: 25-25-50
Three Year Upside: 30-30-60
6. Charlie Coyle – Minnesota Wild
Coyle made a surprise off-ice move earlier this year, jumping ship from Boston University to join the Sea Dogs of the QMJHL. He made the move in order to focus 100% on hockey, and the Sea Dogs were a great choice. Coyle joined a stacked team featuring the likes of Huberdeau, defenseman Nathan Beaulieu (who placed on my defensive prospects list), and future Minnesota teammate Zack Phillips.
After joining the Sea Dogs, Coyle scored 15 goals in the final 23 games of the season. He is a lock to play in the NHL in some capacity, and many believe it will be on Minnesota's top line. He is a physical specimen and could probably add another 10 or 15 pounds onto his 6'2" frame. Coyle may not have the high-end upside of a few players below him on this list, but he is both closer to NHL action and less of a risk to bust. He was the main reason the San Jose Sharks were able to pry Brent Burns out of Minnesota.
Player Comparison: David Backes
One Year Upside: 20-30-50
Three Year Upside: 25-45-65
7. Evgeni Kuznetsov – Washington Capitals
In terms of pure talent and upside, Kuznetsov is right at the top of this list. However, he remains in Russia and there are rumors that he may stay there for at least one more season. As I mentioned above, the KHL knows how important their two young stars are to the success of their league, and they will let them know it. There are rumors that Alex Radulov received upwards of $5 million per season – tax free – during the last four years in Russia.
Kuznetsov plays like a prototypical Russian forward. He is incredibly gifted with the puck, and he has a deadly shot. Simply put, he is a difference-maker almost every shift. The risk of drafting him comes down to his future in Russia. Does he stick around to become the face of the KHL, or does the temptation of joining countryman Alex Ovechkin in Washington prove to be too much? If roulette is your game, Kuznetsov makes for a good draft day pickup.
Player Comparison: Ilya Kovalchuk
One Year Upside: 30-35-65
Three Year Upside: 40-40-80
8. Mika Zibanejad – Ottawa Senators
Zibanejad looked pretty good during his brief stint in Ottawa to begin the regular season. He scored one of the most memorable goals in Swedish hockey history at the World Juniors – the Golden Goal to give the Swedes their first Gold Medal in over 30 years. Aspects of his game are typical of a Swede – calm and composed with the puck, and great vision. However, he brings an edge and feistiness to the game reminiscent of a former Swede you may have heard of – Peter Forsberg.
The Kyle Turris acquisition has provided some competition for the second line gig behind Spezza. Zibanejad is strong enough defensively to handle a depth role at the NHL to begin his career.
Player Comparison Ryan Kesler
One Year Upside: 15-40-55
Three Year Upside: 25-50-75
9. Gustav Nyqvist – Detroit Red Wings
Nyqvist has made the most of his first professional season with Grand Rapids – he sits at over a point-per-game (58 points in 56 games), and he has quickly set himself above several other very good offensive prospects in Detroit's system. Nyqvist recorded 102 points in his final two years at the University of Maine. With the way he sees the ice and handles the puck, the comparisons to current Red Wing Pavel Datsyuk have begun to circulate. Datsyuk has evolved into arguably the most complete player in hockey – a lofty comparison to give to any prospect. Detroit knows how to develop players, and expect Nyqvist to learn a lot from the likes of Datsyuk and Zetterberg next season.
His mission this summer will to be to get bigger, stronger, and to add some velocity to his shot. He could be a mainstay in Detroit's top six next season.
Player Comparison: Nicklas Backstrom
One Year Upside: 15-35-50
Three Year Upside: 25-45-70
10. Ryan Strome – New York Islanders
Strome is the furthest away from NHL action of any of the 10 players on this list, but he could become one of the best by the time he is finished developing. My three year window of evaluation hurts his ranking a bit, as I don't see him emerging as an NHL regular until 2013-14.
Strome is a skilled center who needs to get bigger, stronger, and faster before making the leap to professional hockey. Expect him to play one more year in the OHL in order to accomplish those things. Hopefully the Islanders have learned a thing or two about rushing skilled young centers from the OHL…
Player Comparison: Jason Spezza
One Year Upside: 5-30-35
Three Year Upside: 10-40-50
Honorable Mentions:
Emerson Etem – Etem was my final cut, and I really debated between him and Strome. I chose Strome in the end, but you couldn't go wrong with either. Different players entirely – Etem is big, fast, and a goal scorer in every sense of the word. The Ducks don't need to rush him, but he may force them into keeping him around full time. He has been the cause of countless nightmares for goalies around the WHL.
Tyler Toffoli – a combined 206 points in his last two OHL seasons. The Kings prospect has immense offensive upside. Likely a year or two away from NHL action.
Joel Armia – big, strong winger with a propensity to float from time to time. Compares to current Sabre Thomas Vanek.
Mark Scheifele – the surprise of the 2011 1st round had a solid campaign in the OHL. Still very raw but top line upside is there.
Chris Kreider – combines speed and size like Rick Nash – hockey sense is a question mark, though.
Jakob Silfverberg – the SEL MVP has garnered comparisons to Daniel Alfredsson – could be a line mate of his next season.
Mark Stone – one of the better power forward prospects – a few years away, though.
Nick Bjugstad – the future yang to Huberdeau's yin in Florida. Bjugstad is one of the best players in college hockey.
Cory Conacher – Martin St. Louis 2.0? The Lightning sure hope so.
Brandon Saad – the skilled winger made the Hawks out of camp, but only saw two games. Will see many more in his NHL career.
Ty Rattie – Undersized playmaker and one of the best forwards in junior hockey.
Brendan Gallagher – the heart and soul of the Vancouver Giants will trade in his black and white for bleu, blanc, et rouge next year.
Teemu Pulkiknen - another late drafted gem by the Wings? Part I.
Calle Jarnkrok - another late drafted gem by the Wings? Part II.
Tomas Jurco - another late drafted gem by the Wings? Part III (OK, I guess 35th overall isn't "late", but I'll count it).
Peter Holland – the future number two center behind Getzlaf has had a great rookie pro season.
Beau Bennett – the ultimate project pick by Pittsburgh – was a BCHL star before joining Denver. He has missed most of the season with a wrist injury, though.
Joe Colborne – the Leafs desperately need some size in their top six, and Colborne could supply it. He doesn't play mean, but he does play big.
Jordan Schroeder – his numbers aren't impressive, but his development this season has been. Starting to "get" the professional game.
The honorable mentions list is far from comprehensive... fire away with your thoughts below.
Write comment
Comments
(16)
Subscribe to this comment's feed