*
Two games for Eric Grbya. Ummmmkay. Looks like Patrick Wiercioch will draw in tonight. Big fan of his game. Great puck mover.
*
The Interactive Playoff Draft List (get it here) has been updated based on the standings as of today, plus Columbus (still in it) as well as injury notes up to the minute. Get it with the Keeper League Pack, use coupon code ULTIMATE, get $3.00 off.
*
Crosby is BACK tonight for the Penguins.
*
Scary scene in Montreal last night - Lars Eller was on the receiving end of a massive (clean) hit from Senator d-man Eric Grbya. There was a lot of blood and Eller lost consciousness. I don't really want to post the video as it is kind of sickening. Hopefully he makes a full recovery as quickly as possible.
Craig Anderson... 48 saves on 50 shots. In regulation. This guy has been one of the top 'tenders in the league over the past few years. What a great story - he wasn't anything special as a prospect or in the AHL. The power of hard work and self belief.
Two points, plus-3, and five SOG for Erik Karlsson. Oh, and 30 minutes of ice time. The scariest part? He didn't have a great game (by his insane standards, of course).
What a playoff debut game for Jakob Silfverberg - a goal and a helper, 15 minutes of ice time, and four SOG. He and Zibanejad are going to be great NHL players for a long time.
I thought Rene Bourque (goal, five SOG) had his best game in a long while for the Habs.
Brendan Gallagher also scored, and he led Montreal with eight SOG. His gritty style of play is made for the postseason. 
*
The Blues/Kings series is going to go down as the best of the first round by the time it is done. The Kings had a major pushback last night - the pace of the game was incredible.
Brian Elliott was very good, stopping all but one of the 29 shots fired his way.
Barret Jackman of all people scored a wicked wrister for the GWG. This series features two very, very similar teams. Mobile and big defenses, deep forward groups, and a lot of heavy hitters. 
Vlad Sobotka is one of my favourite hitters in the league - he had a helper and five hits last night, and he throws every pound he has on his frame into every single hit. Underrated offense, too. I've been a fan of his since his days with the Bruins., Great and versatile role forward.
Justin Williams didn't find the scoresheet, but he had a game-high eight SOG. He gets forgotten about with the other big guns in LA, but he is a deadly shooter and had a great spring for Kings in 2012. 
*
Not sure what is better... the pass, or the pass reception? 

*
Think John Tortorella trusts Derek Stepan? Almost 24 minutes of ice time, and he took 29 total faceoffs. Brad Richards played well over 20 minutes too - the Rangers need Brian Boyle to get healthy. Although even then Tortorella would probably play the crap out of his top two centers anyway.
Stepan is certainly in the conversation for most underrated player in hockey. Good at everything.
Mike Green looked a lot like old Mike Green last night - tons of ice time, three SOG, an assist, and he was an offensive catalyst all game long.
*
The most recent Studs & Duds post.
*
A good breakdown of the Steen PPG from Game 1.
*
Yeah… Justin Faulk is pretty good. I wonder if his agent has seen this?
*
Elliotte Friedman's recent 30 thoughts column, including his NHL hardware picks.
*
*
A very interesting look at Alex Ovechkin and Henrik Lundqvist – I'd love to see these charts on all players/goalies.
Lundqvist: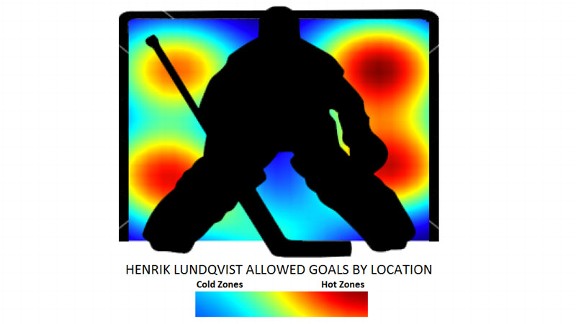 *
The Red Wings signed NCAA defenseman Nick Jensen to a two-year ELC yesterday.
The 2009 5th round pick had 31 points in 42 games for St. Cloud State this season. Has offensive upside, as the numbers indicate. He joins an underrated prospect group in Detroit.
Jensen earned First Team All WCHA honors and was named a First Team NCAA (West) All-American this season.  He was also named the 2012-13 WCHA Defensive Player of the Year.
*
*
A great preview of Sean Monohan, who could go anywhere from top five to top 15 at the NHL Draft this June. He reminds me a bit of Logan Couture – a do-it-all forward who slides a bit down the draft list because of his ability to do everything well (no "elite" or standout quality).
*
Helping promote a free-to-enter NHL postseason pick 'em contest. Part of the proceeds go to charity, and there are some awesome prizes (including a trip to Oktoberfest… need I say more?).
*
Don't forget to listen to and/or download the latest DobberNation podcast from John Gilbert. Gilbert talks with Sunday rambler Thomas Drance as well as TSN's Scott Cullen this month.
*
James van Riemsdyk and Brad Marchand aren't going to be exchanging Christmas cards.
*
One reason to look forward to the World Championships – Brian Campbell skating on the big ice.
*
If you have had success this year (or in past years) thanks to any of the DobberHockey guides, I'd like to hear from you.
*
Now that the season is over… let's look back and see where we were right (and of course, where we were wrong). You never learn from your past mistakes unless you look at them and see why you made them. My column from last year on avoiding mistakes in fantasy hockey touches on a few of the most common ones.
DobberHockey veteran Pengwin put together a thread to discuss your good predictions here.
A few of mine include Brenden Dillon and PK Subban. I put some coin on Subban to win the Norris at 25-to-1, so I have a huge vested interest in the NHL Awards voting this summer.
*
And, of course… Pengwin also did the same for bad/erroneous predictions.
I was too quick to dismiss Ovechkin, bumping him to number two on my top LW list. Now that Ovechkin has moved to the RW, Parise is likely the best LWer… but it was a mistake to slide Ovechkin down. He has handed a lot of us a big serving of crow soup.
I was a year or two early on Brendan Smith. He had a great finish to the regular season, but the production just wasn't there for the first few months.
*
And here are 10 more of my more fearless (also known as stupid) predictions from before the season.
Let's see…
Iginla traded… check.
Tarasenko leads the Blues in scoring. I swear I had written in fine print "in the first week or two of the season only."
Columbus makes the playoffs… so close.
Mike Green leads defensemen in scoring… not so close, but at least he was reasonably healthy.
Jakob Silfverberg leads rookies in scoring… nope… but he was a solid rookie this year, even without Spezza as a linemate.
Alex Ovechkin leads the NHL in goals… check.
Jakub Voracek and Mike Ribeiro finish top 10 in scoring…18th and 11th respectively. Close-ish?
Carolina wins the Presidents' Trophy…. Hah. All you can do is laugh at this one.
Three Canadian teams qualify for the playoffs. Nope – four!
Semyon Varlamov is a Vezina finalist – picking a goalie who plays behind the worst defense in hockey probably wasn't the best idea in retrospect.
*
How did you do with your preseason predictions?
*
An updated profile over on DobberProspects for Brett Ritchie
*
In a word… amazing:
*
Tim Thompson (on Twitter at @b0undless) does an amazing job putting together the CBC montages. I wrote about a few of my favourite ones here.
*
Some of the similar themes in the comment section have already popped up after one day of the playoffs – people asking/complaining why my ramblings are Canucks-dominant. Here's why:
I live in Vancouver and am paid by two websites to write about and cover the team.
Naturally, I watch them play on a closer basis. I am more comfortable providing my thoughts and opinion on hockey I actually watch compared to catching highlights or reading articles and box scores.
I always do my best to present my thoughts as unbiased (I am far from perfect, though), and I also try to give some thoughts on the other 29 teams as much as possible, too. If it really, really pains you to read Canucks news, just skip past it. Commenting about me being a homer or only writing Canucks stuff won't change anything.
Thanks and hope everyone has a hockey-filled weekend lined up!
*
From 2010... I love these CBC montages so much:
Write comment
Comments
(17)
Subscribe to this comment's feed