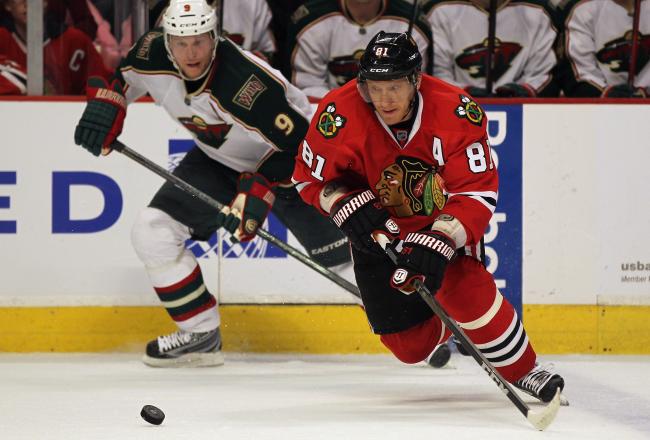 Now three years through his landmark dozen-year deal with Chicago, 33-year-old Marian Hossa is coming off his strongest season with the club. He recorded 77 points in 81 games - his best point-per-game mark since 2006-07.  Of course, there is cause for concern after Marian was thumped to the ice by a malicious hit from Raffi Torres during last spring's first ound matchup. However, the lockout has undoubtedly proved to be a blessing in disguise for the Hawks' 2011-12 leading scorer, in that the extra layoff has offered ample time to recover.
Joel Quenneville was quite liberal in his mix & matching ventures with Marian last season, never truly keeping him on one line for any significant length of time. However, that proved to be quite the positive for Marian as he was able to spend considerable time lined up both even strength and on the man advantage with all of Chicago's top dogs: Kane, Toews and Sharp.
 Line Frequency Production Generator
For the cap hit specialist in all of you, Frozen Pool Forensics brings to you a slick and nifty tool which allows you to break down various stat categories, organized via cap hit, or salary classification. As you can see, Hossa was situated in 4th place among players with earning between $5-6 Million/season, when utilizing the Customizable Report Generator.
The Fantasy Profiles Tool is also a wonderful source for breaking down a players trends on a quarterly basis allowing you to accurately chart whether a given player is hot or not relative to how they performed during the other  quarterly (6 week intervals) of the season. For instance, see Q3 from 2012.
Assuming Hossa returns to form, there is plenty of reason to believe last season's upswing will be a sustainable level of production for him. It was the first season he hit 80+ games since 2006-07, also managing to  avoid his traditional chronic shoulder injury issues. This bodes well for the future, as Hossa is alongside one of the best forward groups in hockey. Its never a good thing to be engrossed in a CBA war, but it certainly doesn't hurt Hossa or the Blackhawks to allow him the ultra conservative Sidney Crosby-like layoff -  albeit without actually having to incurring any man games lost this time around.
Previous Forensics Posts - click here.
Write comment
Comments
(1)
Subscribe to this comment's feed