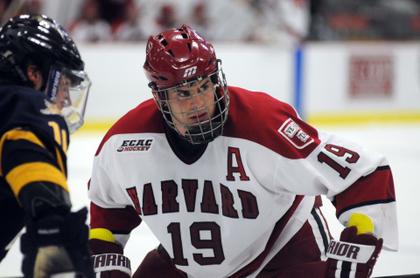 This week we will continue to look at players who are emerging as excellent cap bargains in the AHL and can potentially help your team in the not-too-distant future. All players profiled will have a cap hit under $1 million. The idea is to find players who can help you fit more expensive stars on your roster while not sacrificing anything in terms of production.
Here are five more potential bargain forwards from the Eastern Conference:
Alex Killorn (LW – Tampa Bay)
Cap Hit: $875,000
Years Left: 2
AHL Team: Syracuse

GP: 26
G: 8
A: 10
PTS: 18
PIM: 20
Alex Killorn is a dime-a-dozen player in the Tampa Bay organization. There are currently seven young forwards in Syracuse showing enough promise to warrant consideration for an eventual promotion to the main roster. That does not take away from his talent though and his average size could ultimately give him an advantage over teammates Tyler Johnson and Cory Conacher.
Killorn may also be an emerging contributor in the PIM department. Dating back to his college days his total minutes in the sin bin increased in each of his final three years and this season he has 20 PIM in 26 games to go along with 18 points. There remains a lot of uncertainty for Killorn but something has to give and if he somehow finds himself in the NHL he could be a fine fantasy player.
Ondrej Palat (LW – Tampa Bay)
Cap Hit: $566,667
Years Left: 2
AHL Team: Syracuse

GP: 26
G: 3
A: 17
PTS: 20
PIM: 18
Like Killorn, Ondrej Palat is a fish in the large pond that is the Syracuse forward prospects core. He is also very talented and cheaper than Killorn but has some deficiencies that may work against him moving forward. Since turning pro he has only scored 12 goals in 87 games and is not as bulky as Killorn or Richard Panik.
As with most prospects outside of the top tier, Palat's value in your league depends on the context. His past PIM trend shows that he will not be a big contributor in that area so he may have less roto league value. If the stars align he could be a good pass-first contributor in Tampa Bay who is probably most valuable in a points-only setting.
Derek Grant (C – Ottawa)
Cap Hit: $605,000
Years Left: 2
AHL Team: Binghamton

GP: 23
G: 8
A: 3
PTS: 11
PIM: 15
It has been an uphill battle for Derek Grant but he is having a good season in Binghamton and he is trending in the right direction. His eight goals are tied for the team lead and match his total last year. He is also well on his way to posting new personal bests in points, PIM and plus-minus.
The important part to keep in mind is that Grant is still not close to being NHL-ready. The Senators have a lot of young talent on its roster which will allow him to get the AHL seasoning that he needs. He qualifies as a boom-or-bust prospect and will probably not see any NHL action until 2014-15 but if you are looking for some upside on your farm roster you can do worse than Grant.
Marek Hrivik (LW – NY Rangers)
Cap Hit: $685,000
Years Left: 3
AHL Team: Connecticut

GP: 24
G: 2
A: 13
PTS: 15
PIM: 10
Much like Killorn and Palat, Mark Hrivik also has a lot of competition as he tries to earn an eventual promotion to the New York Rangers. He may have to wait in line as an undrafted free agent signing compared to Christian Thomas, JT Miller and Chris Kreider who are all high draft choices by the Rangers. Luckily, Hrivik has two years left on his entry level contract so he will have time to develop.
Looking back, he has been very productive in the QMJHL and had a great showing last spring when signed to the AHL for the playoff push.  Simply put, Hrivik knows how to put up points. If he can improve his scoring touch he will probably get an opportunity at some point down the road especially on a highly-competitive team that will always be pushing the cap ceiling.
Ben Holmstrom (C – Philadelphia)
Cap Hit: $550,000
Years Left: 1
AHL Team: Adirondack

GP: 22
G: 2
A: 6
PTS: 8
PIM: 29
Ben Holmstrom is a dark horse to become a good roto league contributor down the road. He has posted modest offensive numbers in the AHL over the last three years and plays a feisty game. Additionally, he has shown good defensive abilities which will only help his cause.
Given that the Flyers have recently given roster spots to fighters (Dan Carcillo and Zac Rinaldo come to mind) it is not out of the question that Holmstrom could receive a fair chance to establish himself as a good energy player in the NHL. If so you could see him get 10-20 points, 100 hits and 100 PIM in Philadelphia.
Previous posts from Eric Daoust:
 You can find Eric on Twitter @DH_EricDaoust
Write comment
Comments
(0)
Subscribe to this comment's feed