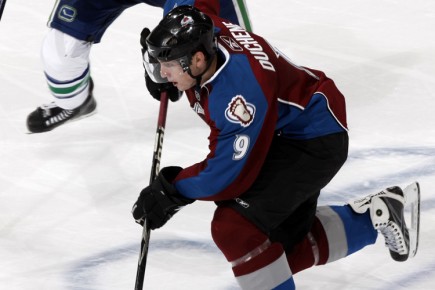 As highly touted of a prospect as Matt Duchene was after bursting onto the scene in 2009, much has been made of his supposed fall from grace over the past 12 months. Sure, one could look subjectively at the 2011-2012 campaign's drop in production for Duchene and suggest the notion that something inherently wrong has infiltrated his makeup or conditioning regimen.
(Editors note: Matt Duchene switched trainers this past summer – he now works out with Sidney Crosby's trainer, Andy O'Brien, during the offseason).
The fact that Duchene fell below his previous upward trajectory has been largely blamed by the media on a natural yet inexplicable regression. Some doubted his character, work ethic and had even been labeled with a sense of entitlement by the Denver Post's beat writer, Adrian Dater. However, the fact that Matt found himself out of the groove dealing with an ailing knee cannot go unstated, as he faced his first real absence from the game in three seasons in the NHL. Many of the same pundits have pointed fingers at a demise of his skills right out of the gates preceding the injury, in an attempt to erase the knee ailment as an alibi for his drop in production.
All you need to do is take a peak at his first two months game logs from the 2011-12 campaign to notice he had rung up 16 points in his first 21 games, amounting to a 0.762 PPG mark-- not all that far behind his sophomore output. It was highlighted by a hat trick performance in Dallas during November where Duchene showed the offensive dynamism he's capable of.
So the real question may come down to chemistry, as Duchene wasn't the only one in Colorado to experience a major regression. His off and on linemate, Paul Stastny, also saw his production suffer (according to Frozen Pools' Most Common Line Combination Report Generator)
The two had been paired for all three of Duchene's seasons, and it seemed as if Joe Sacco was intent on forcing the chemistry of the two back to prior levels by refusing to separate them through the hard times, whether or not Duchene's personal slump was attributable to his knee injury prior to the layoff.
Lets take a closer look at Duchene's production cross referenced with who his most frequent linemates were…
In the 1st quarter of the season when things were going reasonably well, you can see via Frozen Pool's Fantasy Profile tool below that he spent a shade over 30% of his time with Stastny.
However, months later upon returning from the lengthy injury layoff, whether or not Matt was adapting well to getting back into the grind and reactivating his recently healed knee, his production was nowhere near prior levels. However, that did not stop Joe Sacco from pairing him over 30% of the time with Paul Stastny once again during the seasons full fourth quarter.
Clearly, the bench boss was hoping that the chemistry which worked quite well for the two years prior still existed, even ignoring calls to switch things up in the interim when the chemistry was frankly no longer transparent as the two both experienced career lows playing together down the stretch.
All things considered, the Avalanche's omission from the 2012 playoffs was probably for the best of the young duo to wipe the clean slate with an early off-season and more importantly for Matt to further conditioning his body over an extended off-season. Things are looking much better for Matt nowadays as he has plied his trade in the Swedish Elite league for Frolunda , recording 14 points in 19 games before moving over to the top Swiss league.
Expect a full turnaround for Matt, which would perhaps be significantly augmented should he see some time on a line with Gabriel Landeskog when the NHL resumes, while newly acquired Steve Downie could provide more physical protection and room creation for Paul Stastny to exemplify his skills, should Sacco try that pair out as well. In any event, a change of chemistry would be absolutely necessary for Duchene to continue on his road back to excellence after a blip of a season marred with injury and stagnant line matchups in the Mile High City.
Previous posts from Anthony (give him a follow on Twitter @AnthisDaMan)
Write comment
Comments
(2)
Subscribe to this comment's feed