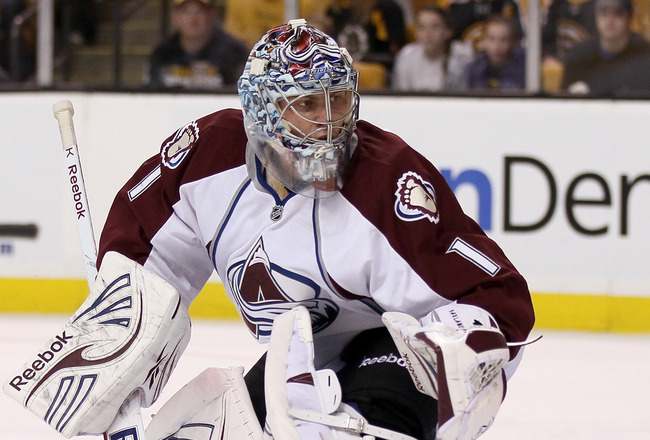 He strikes quicker than a cobra. With an outstretched blocker, he stabs at pucks clearly headed for the top corners. Even if he's totally down and out, Semyon Varlamov has the speed, the quickness and the sheer flexibility to take space away before you can even process what has happened.
Yes, Varly is off to quite a strong start with the Avalanche. He's already 2-1-0 with a 1.30 GAA, a .960 SP% and one shutout. Everyone, including myself, will still label him as an injury-prone goalie. But those that rolled the dice and drafted him in a later round most likely waltzed their way to a Week 1 fantasy hockey victory. Bravo, ladies and gents.
Twice in the past two games, Varlamov's lightning-quick reflexes have single-handedly (literally) earned points for the offensively-challenged Avalanche. On Monday afternoon, it was Milan Lucic who was robbed by the blocker on a 2-on-1 chance with minutes remaining in a 1-0 game. On Wednesday night, it was Jeff Carter who was robbed by the same blocker in the shootout, thus sealing Colorado's come-from-behind 3-2 OT win in Columbus.
Powered by these two clutch stops, Varlamov is destined to be named a Star of the Week, and rightfully so; he has stopped 97-of-101 shots and he's gaining confidence with every minute that goes by.
The real question, however, is just how long can poolies expect this to continue? What are the odds he stays healthy for another week, or even another month? I can't answer that with any certainty or clarity, so you'll have to evaluate that for yourself. But I will say that he's facing a ton of shots (33.67 on average), he has no offensive support and he's still showing numerous signs of an over-amplified, hyper-active goaltender that is visibly struggling with his angles.
But so far, so good. He's being rested tonight in Ottawa, as J-S Giguere will make his first start against former Avalanche goalie Craig Anderson. Then he'll most likely be back in goal against Montreal on Saturday, then again on Monday against the Maple Leafs, unless for some reason Joe Sacco decides to be nostalgic by giving Jiggy the start against his former team.
Furthermore, I'll continue to closely evaluate the situation concerning Colorado's lack of a full-time goalie coach. To be honest, sometimes no goalie coach can be a good thing. It's not preferred, but it does allow Varlamov to just go out there and play his game. He's not getting mixed messages from a goalie coach that doesn't speak Russian, and he's playing in a way that allows him to rely on his strengths. Yes, this still causes him to play in an "injury-prone" fashion, but at the end of the day, he's playing unfettered and he's not over-thinking complicated techniques.
THE WEEKLY WARRIOR
Kari Lehtonen: What makes Lehtonen an elite goalie is the fact that he's extremely meticulous about his game. In a recent conversation with Stars goalie coach Mike Valley, I gained great insight on Kari's off-ice and pre-game routine. He watches video every day, discusses plays down to the microscopic level, and is doing more to improve his nutrition and conditioning than ever before. Therefore, I have no problem saying that, despite his team possibly struggling to score goals, he's going to stop way more pucks than most poolies expect. Through two games, Kari has stopped 77-of-79 shots and has a .975 SP% to boot. Furthermore, his upcoming schedule is favorable. He's at home against the Blues tonight, and then hosts the Blue Jackets on Saturday before traveling to Columbus on Tuesday.
THE HIDDEN NINJA
Al Montoya: Nobody expected this to happen. Rick DiPietro was totally healthy through the preseason, and Evgeni Nabokov was ready to earn the trust of his teammates and GM's around the league. But when Jack Capuano elected to start Montoya on opening night, everything in regards to the Islanders' three-headed goalie situation changed. That prompted me to write about the situation a few nights ago, and then my notions were confirmed when Montoya was tagged as the starter again tonight. Now that DiPietro is out (what a shock) for who knows how long, "El Cubano" could run away with the starting gig. Even though this week's Hidden Ninja is only 1-1-0, Monty has stopped 47-of-50 shots, has a .940 SP% and is killing off penalties like when Woody Harrelson liquefied the undead in Zombieland.
THE UNDERACHIEVERS
Steve Mason: They say you should never shake a baby, but through the first week of action, I really just want to give Mason a real vicious shake. Even with a whole summer to mentally and physically prepare with new goalie coach Ian Clark, Mason is showing the same signs of inconsistency as he had over the past two seasons. Through his first four games, Mason is 0-3-1 with a 3.24 GAA and .892 SP%, stopping just 99-of-111 shots. That's only 27.75 shots per game, so clearly he's not making the timely saves. I will say that he battled really hard in the third period against the Avalanche last night and started to regain some confidence. But giving up a goal with 40 seconds left to Gabriel Landeskog was unfortunate and untimely, and he couldn't come through in the shootout.
Roberto Luongo: I've had enough. I can't take it anymore. I'm tired of seeing this de-evolution of a truly elite goaltender. I truly think he's the most frustrating goalie to watch and to own. Last night's 4-5 loss to Philly was simply gut-wrenching; it was another display of a top-flight fantasy goalie underachieving. Cory Schneider is already making his second start tonight, and if he plays well, he'll get more looks. Through his first two games, Luongo is just 0-1-1 with a .855 SP% and 3.89 GAA. He has only stopped 48-of-55 shots and is 0-for-3 in the shootout (shots). He's a traditionally slow starter, but at this stage in his career, it's unacceptable.
THURSDAY'S MATCHUPS
Every afternoon, I send out an E-Mail Update to all GoaliePost members with a breakdown of every goalie's career personal record against their opponents. It has been so well-received that I'll probably have my head bit off if I fail to make this a daily feature. So here are tonight's matchups, a la carte. This is just another example of the powerful fantasy goalie weapons you can find at GoaliePost!
THE MEMBER'S MAILBAG
What makes GoaliePost so powerful is the system in which it is built. Thanks to Jeff's amazing work, members can now send me fantasy goalie advice requests with all the info I need to reply with quality, genuine and private analysis. Every week I'll take one question and post the answer here (with permission, of course) to give you a glimpse of how I'm helping GoaliePost members gain an edge on the competition. We're keeping this free for now as a trial, so take advantage and please allow 24-48 hours for replies!
THE INJURY UPDATE
Rick DiPietro is not dressing tonight after taking a shot to the mask yesterday in practice. Michal Neuvirth is "day-to-day" with a lower-body injury and did not travel to Pittsburgh with the team. Antti Niemi had a strong practice on Wednesday and Thursday, and is not being ruled out for Friday's game against Anaheim.
*This entire article was researched and constructed using GoaliePost as a resource. Please consider becoming a member for only $9.99 for the entire year and support the DobberHockey and The Goalie Guild alliance!
Write comment
Comments
(2)
Subscribe to this comment's feed