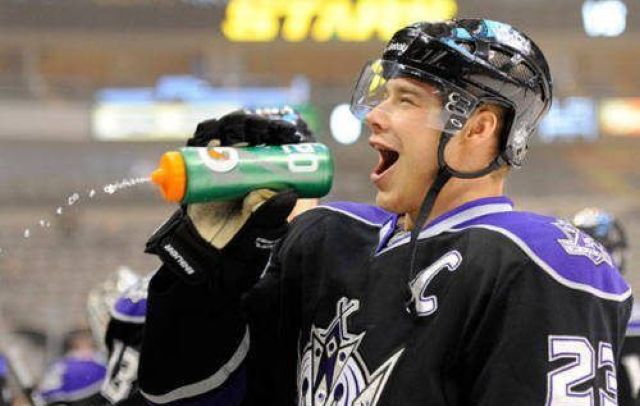 Rick Roos looks at the five biggest mistakes you can make at the trade deadline...
What's really interesting – but often overlooked - about the trade deadline is how it can cause even smart fantasy hockey GMs to make easily avoidable errors or to exercise poor judgment. Knowing this, I've put together a list of the five biggest mistakes to avoid making during and after the trade deadline.
Mistake #1 – Buying into the hype
The NHL trade deadline has been a big event since the 1980s, and even now the number of deals made on that single day can be comparable to the total number from the rest of the regular season. But the reality is that nowadays the trade deadline feels more significant than in the past, what with weeks of rumors and a few high profile pre-deadline deals culminating in 24-hour TSN and NHL Network coverage on the day itself.
If you take a look at the actual deals that occurred on deadline day over the past two years in particular, you'll see that there really weren't any involving impact players like top 30 scorers or stud defensemen. This is due to many factors, including economics, no trade clauses, and more teams feeling they're still in the race for a playoff spot.
What does end up happening on deadline day is a microscope gets put on the deals that actually occur, and their significance is often blown out of proportion. As a result, there is a temptation to rush out and obtain a player who looks to be moving to a more favorable situation, since you fear that if you don't then you'll be left kicking yourself. The situation is similar to a hyped rookie who gets drafted in fantasy hockey leagues far earlier than he should. Don't get me wrong – fantasy hockey GMs need to follow the events of deadline day closely, and there likely will be guys worth picking up (or trading for) based on the deals that are made, but the key is to assess the situation without being swept into total deadline mania that causes you not to use proper judgment.
Mistake #2 – Not focusing on how the deal impacts other players
Too many people look at deadline day transactions and measure the impact based only on the specific players with new addresses. But the key is to resist the urge to read just a headline on Twitter or on a TSN or NHL crawler and simply stop there. A wise fantasy GM will always consider the domino effects of a deal, like whether it hurts one of his/her other players on those teams which made the deal (such as by costing that player power play time or losing him a valuable linemate) or instead maybe helps someone on his/her roster (by freeing up a spot for him in the top six, or paving his way to get to get into the lineup sooner or more often).
What's nice is you need look no further than DobberHockey for this kind of information, as every major deal is covered beyond just the headlines and actual players who are changing teams. Here we also assess how a deal will impact other players or prospects from the affected teams.
Mistake #3 – Forgetting about the non-NHL components of a deal
Similar to Mistake #2 is forgetting to focus on the non-NHL components of a deal. All too often people look at a deal based only on whether it means they should pick up or drop a current NHLer, and they quickly gloss over any players involved who are in the minors, college, or juniors. This happens time and time again despite the fact that the non-NHL components of these trades can be very significant, especially for keeper leagues.
Look no further than the Jarome Iginla deal. Quick – how many of you can name even one of the two players the Penguins dealt to get Iginla? I bet you can't, even though it's only been about a week since the deal went down. I'm not saying you should pick up either of the two prospects that the Flames acquired, but it still makes sense to familiarize yourself with them and where they stand in their development and path to the NHL. Or consider the Brendan Morrow deal, where despite the fact that Joe Morrow is not currently in the NHL, his value arguably has increased as he no longer has the logjam of Kris Letang, Matt Niskanen, and Simon Depres (plus other elite Pittsburgh blueliner prospects) blocking his path to the NHL. And him coming to Dallas also makes the outlook perhaps a little less optimistic for someone like Phillip Larsen.
Mistake #4 – Not factoring in the limbo and adjustment periods for players on new teams
This is a smaller but still important point. Often a traded player won't actually suit up with his new team for several days, whether because of travel problems, visa/immigration issues, or just asking for a few days to get all his things in order. And in a condensed season like 2012-13, this time in limbo could cost you one or more games worth of stats.
Beyond that, there's also the adjustment period of going to a new team and learning its system. No matter how good a traded player is, or how skilled his new teammates are, it still would be reasonable to expect a bit of a bumpy ride for him while he gets acclimated on a new team. In fact, through March 31st contests, Jarome Iginla and Brendan Morrow have yet to put up even a single point in four combined games with their new teams. Be sure to take this into consideration in deciding whether to pick up (or trade for) a player who's dealt on deadline day, or when doing your roster settings for the week or so after a player is dealt.
Mistake #5 – Thinking the same leopard can get new spots
While it's true that some players find a spark once they go to a new team at the deadline (look at Brian Rolston, who at age 39 put up 15 points in 21 games after being traded to the Bruins last season after managing only nine points in 49 games with the Islanders before being traded), in most cases it ends up being more of the same for players who were having problems before they were traded.
I remember in 2010-11 when Alexei Ponikarovsky and Dustin Penner were both dealt at the deadline. Many fantasy hockey GMs had visions of them improving upon their seasons (Ponikarovsky had managed only 15 points in 49 games with Carolina before being dealt, while Penner had done better, with 39 points in 63 games for Edmonton) and raced to acquire them in trades or off the waiver wire, only to see Ponikarovsky put up a mediocre 18 points in 33 regular seasons games with the Devils and Penner regress to only six points in 19 games with the Kings during the rest of that season. What I'm trying to say is in the end, they were still the same oversized but chronically underperforming players they had been (and have since been) for most of their careers, and even a trade to new circumstances did nothing to change that.
And look at Brendan Morrow this season. Admit it - how many of you wanted to (or even did) grab or acquire him when he was dealt to the Pens last week, with hopes he'd recapture some of the magic that resulted in his two 65+ points seasons a few years ago now that he'll be playing with the high scoring Pens? Well after three games he has zero points and still looks a lot like he did in Dallas – a once great all-around player who, because of injuries and a rough and tumble playing style spread over 12 NHL seasons, is a shell of his former self. In the end, you need to be careful not to overvalue players simply because they're getting a change of scenery on a new team.
The Final Verdict
So now that you know what to avoid doing on and after deadline day, what should you do instead? Some useful advice was already covered above, like dissecting deals based on their impact to other players on the trading teams and making sure to assess the present and future impact of non-NHL players involved in the deals.
Other than that, what you should consider doing will be based in large part of where you are in the standings and what kind of league you're in.  If you're in a one-year league and either near the top or near the bottom then it might be worthwhile to take more of a chance and grab someone before others get the opportunity, since leaders in the standings want to protect their advantage and those near the bottom might somehow luck into an asset that could then be ransomed to the teams fighting it out near the top. It's a risk, but one that can be worth taking. And in keeper leagues, it also could make sense to act quickly, but in this case it would be in order to grab non-NHL players and lock them up.
And although more than half of deadline day deals usually don't involve current NHLers being traded for other current NHLers, once piece of universal advice for all teams in all types of leagues is to look for instances where a current NHLer is moved from a playoff team to a non-playoff team.  Players can see that as a bit of a slap in the face, or extra motivation to prove their former team wrong.  Look no further than Cody Hodgson for a perfect example.  He had a decent 35 points in 71 career games with Vancouver before being moved to the Sabres at the 2011-12 deadline. And not only was he traded, but there were whispers about how the Canucks were glad to see him go and how some commentators and front office types felt they fleeced the Sabres in making the deal.  But Hodgson seems to have drawn added motivation from the deal, having since put up 36 points in only 55 games with the Sabres.  Keep your eye out for similar situations.
Lastly, look for instances of older veterans going to younger playoff teams, like what happened last season with Rolston. Young teams will lean on the veterans to surround their younger talent, and the veterans often will respond with increased production, just as Rolston did. For this season, if a young team like the Leafs are buyers at the deadline, you could expect at least a short term bump in production from any veterans they acquire. So if you own any veteran who goes to the Leafs, you might want to look for an opportunity to sell high, particularly if you're in rebuilding mode. Or if the veteran is on the waiver wire, he might be worth grabbing in hopes he'll turn out to be a better option than whoever is the weakest link on your team right now.
Recent 'Holding Court':